Lotus sericeus DC.
Borderline fully-hardy, rounded to spreading, evergreen or semi-evergreen, silver-hairy bush with pinnate leaves, composed of 5 elliptic leaflets, to 2cm long, and axillary and terminal umbels of 4-10, pea-like, pink-flushed, creamy white flowers, to 2cm long, in summer and autumn. To 60cm. [RHSE].
Horticultural & Botanical History
'The Lotus hirsutus, according to Linnaeus, is a native of the South of France, Italy, and the East. In mild winters it will bear the open border with us, but it is more generally kept in the greenhouse, of which indeed it has long had possession, being cultivated, according to Mr. Aiton, in 1683, by Mr. James Sutherland. It flowers from June to August. Its blossoms are of a white colour, which, being contrasted with the redness of the calyx, gives them a pleasing appearance; Casp. Bauh informs us, that they are purple also. This shrub will acquire the height of several feet; its flowers are usually succeeded by seed-vessels, which in favourable situations produce perfect seeds, by which the plant is easily propagated, as also by cuttings.' [BM t.336/1796].
History at Camden Park
Listed only in the 1857 catalogue [T.651/1857].
Notes
Lotus sericeus Pursh (1814) = Hosackia sericea (Pursh) Branner & Coville, syn. Hosackia purshiana Benth.
Lotus sericeus Moench (1802) = Lotus creticus L.
Published Dec 23, 2009 - 04:30 PM | Last updated Jul 21, 2010 - 12:26 PM
---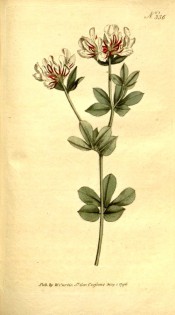 More details about Lotus sericeus DC.

| | |
| --- | --- |
| Family | Fabaceae |
| Category | |
| Region of origin | Western Mediterranean |
| Synonyms | |
| Common Name | Hairy canary clover |
| Name in the Camden Park Record | Lotus sericeus |
| Confidence level | medium |