Hovea elliptica DC.
Frost-tender, slender, erect, evergreen shrub with narrow, oval to lance-shaped leaves and short axillary clusters of purple, pea-like flowers in spring. To 1.8m. [RHSD, Hortus, Blombery].
Horticultural & Botanical History
'One of the most beautiful green-house plants [but] one of the most difficult to induce to form a handsome specimen. It is easy to grow the plant to a considerable size, but its straggly habit, and a tendency to [grow] up without producing lateral branches, render it [difficult] to make it anything approaching a compact, well-furnished specimen.' [Gard. Chron. 1853].
'Like all the known species it is a native of New Holland; from whence it was first brought to Europe by Captain Baudin [in 1817], on his return from the expedition to that country.' [BM t.2005/1818].
'Named in honour of Mr. Cels, of Paris, who first had it for sale, and from whom we originally obtained it.' [LBC no.1488/1830].
'It was unknown in this country until imported last year, from the nursery of Monsieur Cels at Paris, by Mr. Allan, nurseryman, in the King's Road. The parent plant is said to be six feet high, and much branched; those that we have seen are yet small, and have not divided into branches. The bloom is abundant, of a fine deep violet blue, rendering it a very desirable shrub to the greenhouse and conservatory, where it flowers about March.' [BR f.280/1818]. MB p.241/1836.
History at Camden Park
Listed in all published catalogues [T.558/1843].
Notes
Published Dec 23, 2009 - 01:09 PM | Last updated Jul 21, 2010 - 12:18 PM
---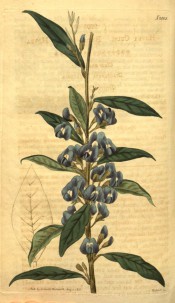 More details about Hovea elliptica DC.
Family
Fabaceae
Category
Region of origin

Western Australia

Synonyms

Hovea celsii Bonpl.
Poiretia elliptica Sm.
Platychilum celsianum Laun.
Phusiocarpos ellipticus (Sm.) Poir.

Common Name

Oval-leafed hovea, Karri blue bush

Name in the Camden Park Record

Hovea Celsi

Confidence level
high