Castanospermum australe Cunn. & Fraser
Frost-tender, open, spreading tree with lustrous dark green leaves, to 45cm long, composed of up to 17 elliptic leaflets, and racemes of yellow, orange or red flowers in spring and summer, followed by large pods containing chestnut-like black seeds. To 30m. [RHSE, Hortus].
Horticultural & Botanical History
First cultivated in Europe in 1828. Its seeds have the flavour of Spanish chestnuts when roasted, 'even Europeans who have subsisted on them for 2-3 days together have found no bad effects from them.' [Don].
'Timber-getters of the two neighbouring States have given distinctive names to this wood, the northern men having bestowed the appellation of Moreton Bay Chestnut, evidently from the big seed of the pod resembling the Horse chestnut of Europe, whilst the Walesian has derived his designation of it from the pod, prefixed by an adjective suggestive of the colour of the timber. It is really remarkable how vernacular names are applied, as for instance, Red Bean, where the fruit is not a bean, but the timber has much the same character as this, although not the colour, and hence the family (sic) name. It is an attractive wood, much resembling English and American Walnut in colour and often in figure, being dark or almost black, with a pronounced grain. In some specimens exhibited in the Museum the figure is most beautiful, excelling anything seen in exotic Walnut woods. The texture is close, and a good surface is easily produced by planing. It is fairly heavy, and is a good carving timber. It requires careful seasoning, otherwise it readily warps and twists. For doors, desks, panels, particular kinds of furniture, it is well suited, and may be regarded as a good all-round heavy cabinet timber. The tree is a fairly quick grower.' [Baker – Cabinet Timbers of Australia p.66/1913].
Described and figured in Banks and Solander – Illustrations of the Botany of Captain Cook's Voyage Round the World in H.M.S. Endeavour. p.26 and pl.80. 'Bentham describes the flower as yellow, and their colour is not mentioned in the original description, it may be well therefore, to transcribe Sydney Parkinson's note on the back of the original drawing:- "The vexillum first laid over as yellow, then stain'd and sprinkled with scarlet; the rest of the flower scarlet, calyx deep buff colour ting'd at the base with green; the buds the same colour but somewhat more green.' [Banks and Solander p.26/1900].
History at Camden Park
Listed in all published catalogues [T.285/1843]. What may be the original tree is still growing at Camden Park.
Notes
Published Dec 13, 2009 - 03:10 PM | Last updated Jul 18, 2010 - 04:58 PM
---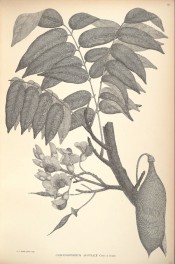 More details about Castanospermum australe Cunn. & Fraser

| | |
| --- | --- |
| Family | Fabaceae |
| Category | |
| Region of origin | Australia, north east NSW and south east Queensland |
| Synonyms | |
| Common Name | Black-bean tree, Moreton Bay chestnut |
| Name in the Camden Park Record | Castanospermum Australe - Moreton Bay chestnut |
| Confidence level | high |