Brunfelsia latifolia Benth.
Frost tender bshy shrub with, leathery, glossy, broadly elliptic leaves and usually solitary, lavender or purple flowers, whitish at the mouth and fading to white, in winter and spring. To 3.5m. [RHSD, Hortus].
Horticultural & Botanical History
Introduced to Britain in 1840. [JD]. 'The Genus Franciscea was established by Pohl in honor of Francis the First, Emperor of Austria; and from the great beauty of many of the species, and eminently so of this, it is well worthy of bearing so illustrious a name, and that of a sovereign who was so distinguished a patron of Botany. We have already figured one of the species at Tab. 2829 (F. Hopeana, or more properly, F. uniflora) of this work: but that and the present species, handsome though they be, are yet far inferior to the F. hydrangeaformis and some others. All are natives of Brazil. The present one inhabits Tijuca, near Rio Janeiro, according to Pohl, whence living plants were introduced to the Botanic Garden of Schoenbrunn. Our native specimens in the Herbarium are from South Brazil, gathered by Mr. Tweedie; and from the same source, through the medium of the Earl of Arran, were derived the seeds which produced the plant here figured, and which were raised by Mr. Moore at the Glasnevin Botanic Garden, near Dublin. To him I am indebted for the drawing here published. The plant quite accords with Pohl's figure and description, except that the calyx is larger and more inflated in our specimens. Nothing can exceed the brilliant violet-purple of the blossoms. It is cultivated in the hothouse; but it would probably succeed equally well in the greenhouse.' [BM t.3907/1841].
History at Camden Park
Listed in the 1850 and 1857 catalogues [T.456/1850]. Obtained from Loddiges' Nursery, brought out from England by Captain P. P. King in 1849. [ML A1980-3].
Notes
Published Feb 27, 2010 - 03:30 PM | Last updated Feb 27, 2010 - 03:37 PM
---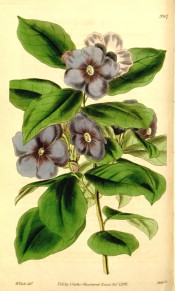 More details about Brunfelsia latifolia Benth.

| | |
| --- | --- |
| Family | Solanaceae |
| Category | |
| Region of origin | Tropical America |
| Synonyms | Franciscea latifolia Pohl. |
| Common Name | Yesterday, today and tomorrow, Paraguayan jasmine |
| Name in the Camden Park Record | Franciscea latifolia |
| Confidence level | high |