Bauhinia tomentosa L.
Frost-tender shrub, deciduous in cooler climates, with roundish leaves with semi-connected leaflets and racemes of up to three, pale yellow, bell-shaped flowers, somewhat drooping, with a red spot at the claw. To 4.5m. [RHSD, Hortus].
Horticultural & Botanical History
'This handsome shrub [var. glabra] was introduced to the Royal Gardens, Kew, by M. Monteiro, who sent seeds in 1860 from Bembe, in Benguela, the plants from which flowered in our stoves in November of last year. The species itself (of which this is rather a glabrous form) is a native of Ceylon, Malabar, and other parts of India; it is also commonly cultivated in the tropics of both the old and new worlds. In Africa, it is also found in Natal; by Kirk at Serna, during Livingstone's late expedition; and in the interior of Dammara Land, by Baines and Chapman.' [BM t.5560/1866].
The dried leaves and flowers have been used to treat dysentery in its native countries. Introduced to Britain in 1808. [JD]. Don.
History at Camden Park
Listed in the 1845, 1850 and 1857 catalogues [T.136/1845].
Notes
Bauhinia tomentosa Wall. (1828-1849) = Bauhinia malabarica Roxb.
Bauhinia tomentosa Naves ex Villar (1877) = Bauhinia acuminata L.
Bauhinia tomentosa Vell. (1829) = Bauhinia langsdorffiana Bong.
Published Dec 07, 2009 - 11:40 AM | Last updated Jul 18, 2010 - 04:48 PM
---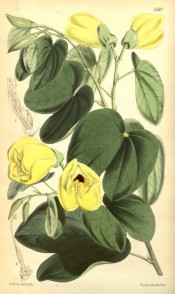 More details about Bauhinia tomentosa L.

| | |
| --- | --- |
| Family | Fabaceae |
| Category | |
| Region of origin | Tropical Africa and Asia |
| Synonyms | Alvesia tomentosa (L.) Britton & Rose |
| Common Name | St Thomas tree, Yellow bauhinia, Bell bauhinia |
| Name in the Camden Park Record | Bauhinia tomentosa |
| Confidence level | high |