Stemona tuberosa Lour.
Frost tender, tall-growing twining plant with pointed, somewhat heart-shaped leaves and bell-shaped, greenish pink or yellow flowers in summer. [RHSD].
Horticultural & Botanical History
'This plant [Roxburghia gloriosa] received its name in honour of Dr. Roxburgh, Physician at Calcutta and superintendant of the Botanical Garden there, whose botanical labours are well known in Europe, although but a small proportion of them have as yet been published. Through him we have become scientifically acquainted with a great number of the curious and useful products of the East-Indies, many of which have long been in request for adorning our houses, clothing, and feeding us; adding to the palatableness, perhaps to the salubrity, of our diet ; and furnishing our shops with drugs, in high estimation for the cure of many diseases. The flowers are not very shewy, and when bruised have a disagreeable smell, which Dr. Smith compares to rotten cheese, corrupted water, or the stinking morell; but to us it appeared to contain nothing putrid, but was nauseous and disgusting, like that of the dwarf elder and some night-shades. […] Introduced [in 1803] by the late Lady Amelia Hume.' [BM t.1500/1812].
'This was one of the last plants Dr. Konig saw. It was brought in when he was on his death bed; he did attempt to examine it, but was unable, the cold hand of death hung over him; he desired I would describe it particularly, for he thought it was uncommonly curious, new, and beautiful. This observation, from a worthy friend, a preceptor, and predecessor, has made me more than usually minute in describing and drawing it. William Roxburgh.' [Roxburgh FI p.236].
In India the roots are candied with sugar and eaten as a sweet-meat. [JD]. Stemona tuberosa is one of the 50 fundamental herbs used in traditional Chinese medicine.
History at Camden Park
Listed in the 1850 and 1857 catalogues only [T.910/1850].
Notes
Roxburghia gloriosoides Zoll. ex Kunth (1850) = Roxburghia javanica Kunth, but as this was not described until 1850 it seems an unlikely identification.
Published Mar 25, 2009 - 05:07 PM | Last updated Mar 27, 2010 - 04:47 PM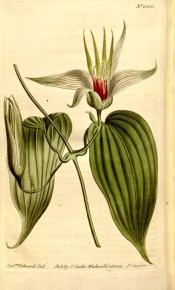 Family
Stemonaceae
Category
Region of origin

India to East Indies

Synonyms

Stemona gloriosoides Voight
Roxburghia gloriosoides Roxb.
Roxburghia gloriosa Pers.
Roxburghia viridiflora Sm.

Common Name
Name in the Camden Park Record

Roxburghia gloriosoides

Confidence level
high