Paphiopedilum insigne (Wall. ex Lind.) Pfitzer
Frost-tender terrestrial orchid with lance-shaped, yellowish leaves, to 30cm long, and solitary ladies' slipper flowers, to 10cm across, yellow-bronze in colour, with pale green–yellow, spotted upper sepals, but very variable in colour and size. To 15cm. There are many named forms. [RHSE, Pridgeon].
Horticultural & Botanical History
'Of the most beautiful Genus Cypripedium, no species, perhaps, excels that here figured, whether the size of the blossom, or the colour and markings of the floral coverings be considered. It is a native of Nepal, along with its near affinity, C. venustum. Both were introduced to our gardens through the liberality of Dr. Wallich, and both are remarkable for their distichous and coriaceous leaves. The individual here figured blossomed during the winter months, at Mr. Curtis's collection, at the Glazenwood Nursery, and the drawing was made by Miss Maria Curtis.' [BM t.3412/1835].
'There is something fascinating about this plant, as well in form as in arrangement of its colours; delightful to every eye, but doubly so if we view it as formed by the kindness of God.' [LBC no.1321/1829]. Introduced to Britain in 1819. [JD]. Flore des Serres figured the variety Maulei. [FS f.1564/1864].
History at Camden Park
Listed in the 1850 and 1857 catalogues [O.13/1850]. Obtained from Loddiges' nursery, brought out from England by Captain P. P. King in 1849. [ML A1980-3]. Cypripedium insigne was also part of a consignment of plants sent from Kew by John Bidwill in November 1843 [AJCP]. These plants may well have come to Camden but there is no specific record of this.
Notes
Published Jan 24, 2010 - 04:39 PM | Last updated Jan 24, 2010 - 04:45 PM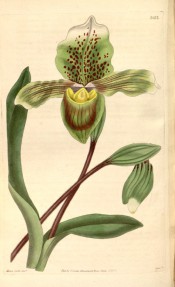 | | |
| --- | --- |
| Family | Orchidaceae |
| Category | |
| Region of origin | Himalayas |
| Synonyms | Cypripedium insigne Wall. ex Lindl. |
| Common Name | Slipper orchid |
| Name in the Camden Park Record | Cypripedium insigne |
| Confidence level | high |