Malus domestica 'Rymer'
'Fruit, large, three inches and a quarter wide, and two inches and three quarters high; roundish, and flattened, with five obscure ribs, on the sides, extending into the basin of the eye. Skin, smooth, thinly strewed with redish-brown dots, and a few faint streaks of pale red on the shaded side ; and of a beautiful deep red, covered with yellowish-grey dots, on the side next the sun. Eye, open, with broad reflexed segments, set in a round and moderately deep basin. Stalk, short, inserted in a round and deep cavity, lined with rough russet, which extends in ramifications over the base. Flesh, yellowish, tender, and pleasantly sub-acid. A good culinary apple, in use from October to Christmas.' [Hogg p.177/1851].
Horticultural & Botanical History
'This apple was raised by a gentleman of the name of Rymer, at Thirsk, in Yorkshire.' [George Lindley – Orchard guide p.33/1831].
Introduced at the end of the 18th century in Yorkshire. A free growing tree and a good bearer. A good culinary apple, ripe from October to December. [HP pl.XXXIX].
History at Camden Park
Listed in all catalogues [Apple no.3/1843]. There are two references to the quality of fruit in William Macarthur's records.
Caldwell's Keeping. March-June. Great, very handsome large highly coloured apple, good for kitchen. [Notebook no.9, MP A2948].
March-June. Very handsome large highly [word indistinct but probably] coloured apple good for kitchen, not very good for dessert. [Diary B, 1862, MP A2951].
Notes
The identity of Macarthur's 'Caldwell's Keeping' is in some doubt, 'Rymer' seems the most likely possibility except that the Herefordshire Pomona does not seem to consider 'Rymer' to be a keeping apple.
Published Apr 15, 2010 - 02:24 PM | Last updated Jul 25, 2011 - 05:08 PM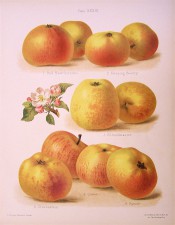 Family
Rosaceae
Category
Region of origin

Garden origin, England

Synonyms

Caldwell
Green Cossings
Newbold's Duke of York

Common Name

Apple, Culinary apple

Name in the Camden Park Record

Caldwell's Keeping

Confidence level
medium