Lupinus ornatus Dougl. ex Lindl.
Hardy perennial lupin, the flowers dark blue with a pink spot on the standards. To 90cm. [RHSD, Hortus].
Horticultural & Botanical History
Introduced to Britain in 1826. [JD]. 'Found by Mr. Douglas abundantly in mountain valleys, on the banks of the Spokan River, near Kettle Falls, on the river Columbia; and also near the chain of lakes of the last-mentioned stream, in gravelly or light dry soils. It was observed in flower from June to August; and Mr. Douglas remarks that it is one of the finest of the tribe. In this we quite agree. Nothing can surpass the lovely azure blue of the flowers, or the silvery surface of the leaves. A hardy perennial, flowering from May till the end of November; and in fact yielding to nothing but severe frost. Our drawing was made in the Garden of the Horticultural Society, in which it had been raised from Mr. Douglas's seeds, in 1827.' [BR f.1216/1829].
History at Camden Park
Seed order to Hurst and McMullen, Seedsmen and Florists of London, on 8th April 1846. [MP A2933-1, p.132].
Notes
Many hybrids are grown under a variety of names, known collectively as Lupinus hybridus Lem. [Hortus]. The addition of 'splendid' after the name Lupinus ornatus is suggestive that Macarthur's plant may be one of these.
Lupinus ornatus Newberry = Lupinus argenteus Agardh
Lupinus ornatus Torr. = Lupinus chamissonis Eschsch.
Lupinus ornatus Nutt. (1834) = Lupinus sericeus Cooper
Published Oct 03, 2009 - 04:22 PM | Last updated Jul 21, 2010 - 12:28 PM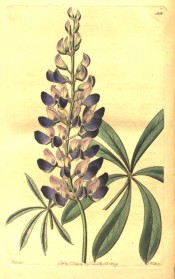 | | |
| --- | --- |
| Family | Fabaceae |
| Category | |
| Region of origin | North America |
| Synonyms | |
| Common Name | Lupin |
| Name in the Camden Park Record | Lupinus ornatus (splendid) |
| Confidence level | medium |