Lagunaria patersonia (Andr.) G.Don
Frost-tender, pyramidal to columnar tree, with lance-shaped leaves, to 10cm long, whitish-grey beneath, and a succession of pink, trumpet-shaped flowers, to 6cm across, mainly in summer, followed by ovoid seed capsules. To 15m. [RHSE, Hortus].
Horticultural & Botanical History
'This plant has been known in the few collections that possess it by the name of Patersonia; it appears to correspond with the character of Lagunaea, but agrees so little in habit with the other known species of this genus, that perhaps it may hereafter be considered as a distinct genus. On this account, and not merely from the right of priority, we prefer retaining the trivial name we had previously fixed upon, to adopting that of Mons. Ventenat. The Lagunaea Patersonia is a native of Norfolk-Island, from whence the seeds were brought to England by Colonel Paterson [one time Governor]. Our drawing was taken at Messrs. Whitley and Brame's, Old-Brompton, in June 1801, when it flowered perhaps for the first time in Europe.' Figured under the name Lagunaea patersonia. [BM t.769/1804]. Introduced to Britain in 1792. [JD].
History at Camden Park
Listed in all published catalogues [T.622/1843]. Listed in Loddiges' 1836 catalogue as Hibicus patersonii and marked with a 'c', denoting grown at Camden, in a copy held at Camden Park. A number of mature specimens grow in the Camden Park gardens today.
Notes
Published Jan 13, 2010 - 12:21 PM | Last updated Jul 27, 2010 - 05:05 PM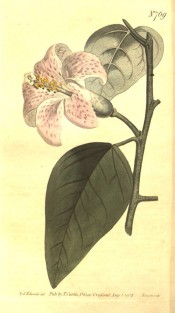 | | |
| --- | --- |
| Family | Malvaceae |
| Category | |
| Region of origin | Norfolk Island and Lord Howe Island, doubtful native of Eastern Australia |
| Synonyms | Hibiscus patersonii R.Br. |
| Common Name | Norfolk Island hibiscus, Cow itch tree, Queensland pyramid tree |
| Name in the Camden Park Record | Lagunaria Patersonii |
| Confidence level | high |