Magnolia virginiana L. var. glauca
Deciduous shrub to small tree with elliptic leaves, to 12cm long, and scented creamy white flowers, deepening with age. To 15m. [RHSD, Hortus, Hilliers'].
Horticultural & Botanical History
'This is a fine hardy shrub, or small tree, as it frequently grows even in this country to ten or fifteen feet. […] The scent of the flowers is exquisite; and in America, when the trees are in full bloom, can be distinguished three quarters of a mile off.' [LBC no.215/1818]. Introduced to Britain in 1688. [JD]. Bonpland.
'The earliest mention of Magnolia glauca is of "the tree that beareth the rine of blacke Sinamon, of which Master Winter brought from the streights of Magellan," which Philip Amadas and Arthur Barlowe found in 1584 on an island in Pimlico Sound. It was first cultivated in Europe by Bishop Compton, in his garden at Fulham, near London, who received it from John Banister in 1688; and the earliest description is that of Plukenet.
The value of Magnolia glauca as an ornamental plant was at once recognized; and it has always been a favorite in gardens where, at different times, several varieties have been distinguished. Magnolia glauca longifolia, with lanceolate leaves and a blooming period which sometimes extends through two or three months, is the only one of these that has survived. Magnolia Thonpsoniana [which see], a probable hybrid between Magnolia glauca and Magnolia tripetala, raised early in this century by a Mr. Thompson of Mile End in England, has been preserved in gardens, where it is esteemed for its handsome foliage and large and deliciously fragrant flowers.' [Sargent – The Silva of North America vol.1, p.6/1891].
History at Camden Park
Desideratum to Loddiges' Nursery, 6th January 1845. [MP A2933-2, p.28]. It is marked with a 'c', denoting grown at Camden, in an 1836 Loddiges' catalogue held at Camden Park. This indicates that it was grown at Camden before 1845, probably lost. Magnolia glauca sempervirens was also marked with a 'c' in this catalogue. Magnolia virginiana is quite variable in the length of time that the leaves persist, particularly in the south of North America. [RHSD, Hortus]. Sempervirens is presumably a form that holds its leaves for a particularly long time.
Notes
Magnolia glauca Pierre (1880) = Talauma glauca Miq.
Magnolia glauca Thunb. (1784) = Magnolia hypoleuca Siebold & Zucc.
Published Mar 24, 2010 - 12:21 PM | Last updated Mar 24, 2010 - 12:40 PM
---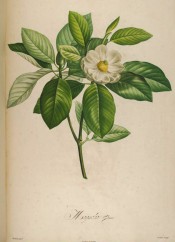 More details about Magnolia virginiana L. var. glauca
Family
Magnoliaceae
Category
Region of origin

North America

Synonyms

Magnolia glauca L.
Magnolia fragrans Salisb.
Magnolia longifolia Sweet

Common Name

Sweet Bay

Name in the Camden Park Record

Magnolia glauca

Confidence level
high