Zephyranthes lindleyana Herb.
Bulbous perennial with narrow, linear leaves, to 50cm long, produced with the solitary, crocus-like, rose-coloured flowers, to 5cm long, in spring. [RHSD, Baker Am.].
Horticultural & Botanical History
According to Herbert the leaves and seed of Zephyranthes grandiflora as figured in the Botanical Register are actually from Zephyranthes lindleyana although the flower is true [Herbert p.174]. '[Zephyranthes grandiflora is] a beautiful new species of Zephyranthes, native of Mexico, where it does not seem to be uncommon, especially in the cool high country about Real del Monte and Cerro Ventoso. Introduced this spring for the first time. Our drawing was made in May, from a plant in the possession of Sir Abraham Hume. We have seen others in the collection of the Horticultural Society, to whom they had been presented by Don Mariano La Gasca. When our drawing of this species was made, we had not seen the flower in its most perfect state. Since the figure was in the hands of the engraver, we have had an opportunity of examining the plant under the influence of bright sunshine, and we find that the flowers then expand quite as much as in Zephyranthes rosea.' [BR f.902/1825]. Herbert provides further clarification in Amaryllidaceae. 'This plant, a native of Mexico, is distinguished by its smaller size, pedunculated germen, and pale rose-coloured flowers, from Verecunda, which it otherwise closely resembles. It is the plant of which the leaves are represented and the seed described under the name Grandiflora, in consequence of the flower of Carinata having appeared before the leaves on its first importation, and the leaves added to the drawing at a later period from a bulb of this species by a mistake of the gardener. My plants of Lindleyana are from an offset of Dr. Lindley's hand from a plant of which he described the leaf and seed. If a pot of these bulbs, after remaining dry in the greenhouse all winter, be placed on a warm flue and watered in May, the flower buds will appear in a few hours. I believe this to be Humboldt's minuta, but it cannot be identified with certainty, and the smaller species since discovered make the name not desirable.' [Herbert p.174].
History at Camden Park
Listed in the 1845, 1850 and 1857 catalogues [B.459/1845].
Notes
Published May 16, 2009 - 01:30 PM | Last updated Aug 12, 2012 - 04:26 PM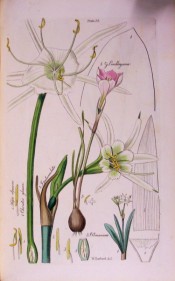 Family
Amaryllidaceae
Category
Region of origin

Mexico

Synonyms

Amaryllis nervosa H.B.&K.
Zephyranthes nervosa M.Martens & Galeotti

Common Name

Rain flower, Windflower

Name in the Camden Park Record

Zephyranthes Lindleyana

Confidence level
high