Xerochrysum bracteatum (Vent.) Tzvelev. var. album grandiflorum
Perrenial, often grown as an annual, with solitary flower heads in a range of colours, white, yellow, orange or red. Album has white flowers. To 90cm. [RHSD, Hortus]. Grandiflorum is probably, as the name suggests, a form with larger flowers.
Horticultural & Botanical History
Introduced to Britain in 1799. [PD]. 'This large and extremely ornamental species, was raised by Mr. Low of Clapton, from seed sent from Swan River by Mr. Drummond, late of Cork, and seedlings, sent to the garden of the Caledonian Horticultural Society in October, 1839 , flowered very abundantly during July and August following, forming an exceedingly attractive border plant. The species has proved to be perennial, pushing, in the year after flowering, many branches from the lower part of the stem. It has not ripened seed at Edinburgh. It has much affinity with the H. macranthum of Bentham, but is distinguished by its large capitula, pure white, cup-shaped involucre, and perennial root. It is in the highest degree worthy of cultivation.' [BM t.3857/1841 as H. niveum].
History at Camden Park
Seed order to Hurst and McMullen, Seedsmen and Florists of London, on 8th April 1846. [MP A2933-1, p.132].
Notes
Helichrysum album N.E.Br. (1895) is not Macarthur's plant.
Published Sep 17, 2009 - 04:40 PM | Last updated Jul 14, 2010 - 04:44 PM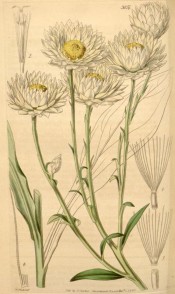 Family
Asteraceae
Category
Region of origin

Widespread in Australia

Synonyms

Xeranthemum bracteatum Vent. var. album L.H.Bailey
Helichrysum bracteatum (Vent.) Haw. var. album L.H.Bailey
Helichrysum niveum Hook.
Bracteantha bracteata (Vent). Anderb. & Haegi

Common Name

Strawflower

Name in the Camden Park Record

Elichrysum album grandiflorum

Confidence level
medium