Wachendorfia paniculata Burm.
Rhizomatous perennial with usually hairy, lance-shaped leaves, to 70cm, and lax to dense panicles of pale yellow to bright apricot flowers in spring. To 70cm. [RHSD, CECB].
Horticultural & Botanical History
'The genus is remarkable in this natural order for its inferior corolla, and is perhaps one of its connecting links to the hexandrous liliaceous plants; in the habit of its leaves it approaches Babiana, in that of the flower and capsule it comes nearer to Cyanella. If Burman's figure is attentively examined, it will be found to come nearer to this than paniculata; the lower leaves not being seen nor described it is impossible to be so certain as we could desire; the plant was only known to Burman by a drawing taken at the Cape, from which his engraving was made. Introduced amongst us by Mr. Williams, Nurseryman at Turnham-Green, who received the bulbs three or four years back from the Cape. Requires the same treatment as Ixia and other Cape Ensatae.' [BM t.614/1803].
Introduced to Britain in 1687. [JD]. ABR pl.398/1804 as Wachendorfia villosa.
History at Camden Park
Received per 'Sovereign' February 1831. [MP A2948]. This is the only mention of this plant in the records.
Notes
Wachendorfia hirsuta L. (c.1759) = Dilatris corymbosa P.J.Bergius, a related species also from the Cape District of South Africa.
Published Jan 10, 2010 - 03:11 PM | Last updated Jan 10, 2010 - 03:19 PM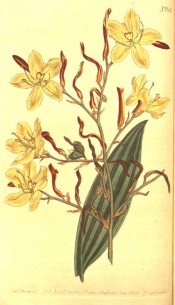 Family
Haemodoraceae
Category
Region of origin

South Africa

Synonyms

Wachendorfia hirsuta Thunb.
Wachendorfia villosa Andr.

Common Name

Butterfly lily

Name in the Camden Park Record

Wachendorfia hirsuta

Confidence level
high