Tropaeolum majus L.
Frost-tender annual scrambler or climber with rounded to kidney-shaped leaves and long-spurred, orange, red or yellow flowers from summer to autumn. To 3m. There are many garden cultivars and hybrids. The leaves, flowers and unripe seeds are all edible. [RHSE, Hortus].
Horticultural & Botanical History
'One of the greatest ornaments the Flower Garden can boast: it varies in colour, and is also found in the Nurseries with double flowers. […] Elizabeth Christina, one of the daughters of Linnaeus, is said to have perceived the flowers to emit spontaneously, at intervals, sparks like those of electricity, visible only in the dusk of the evening, and which ceased when total darkness came. The flower has the taste of water cress, with a degree of sweetness, which that plant does not possess, more particularly resident in the spur of the calyx or nectary; hence they are sometimes used in salads, and hence the plant acquires its name of Nasturtium.' [BM t.23/1787]. 'The common or greater Indian Cress, though a native of Peru, proves a hardy annual in this country, and has been cultivated in Europe since 1684. From the ease with which it may be propagated, and the great beauty of the flowers, it is a great favourite with the humble cottager; its frequency having almost banished it from the gardens of the more curious in flowers.' [BM t.3375/1835]. MB p.176/1834. MB p.193/1835. IH pl.232/1860.
History at Camden Park
Listed only in the 1843 catalogue under Herbaceous plants.
Notes
Published Jan 22, 2009 - 12:13 PM | Last updated Aug 01, 2010 - 02:57 PM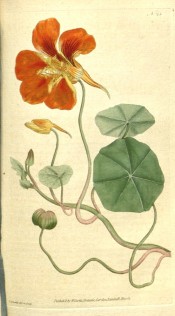 | | |
| --- | --- |
| Family | Tropaeoleaceae |
| Category | |
| Region of origin | South America |
| Synonyms | |
| Common Name | Indian cress, Nasturtium |
| Name in the Camden Park Record | Tropaeolum majus |
| Confidence level | high |