Tritonia deusta (Ait.) Ker-Gawl.
Cormous perennial with up to eight, lance-shaped leaves, and stems, to 50cm, sometimes 1-2 branched, bearing several regular, cup-shaped bright orange-red to orange-salmon flowers, in spring. It differs from Tritonia crocata mainly in having purple-black blotches on the haft of the three outer lobes. [RHSD, CECB, Grey].
Horticultural & Botanical History
'Leaves resembling those of Tritonia crocata, from which as well as from squallida and miniata it differs in having the three outer alternate segments gibbous towards their base and bearing inwards a tawny-black spot furnished with a ridge-like excrescence, and further from the two first in not having any part of its ungues transparent or hyaline. Tube rather shorter than the spathe. Limb campanulate; laminae of the segments ovate, blunt, patent, inner segments straighter; organs of fructification inclined-assurgent, nearly equal, much shorter than limb. From many well-preserved indigenous specimens we find it is but little altered by culture in our gardens. The tunic of the bulb is darker than in crocata. This species was first defined by Dr. Solander in Hort. Kew. where we learn that it was introduced by Mr. Masson. Flowers in May.
It is of easy culture, propagates rapidly both by seed and offsets, quite scentless but very ornamental. Our specimen was furnished by Messrs. Grimwood and Wykes, who have frequently imported it both from the Cape and Holland.' [BM t.622/1803].
Andrews' Botanical Repository figured Ixia crocata var. nig. maculata: 'The three outer petals are gouty and spotted at the base.' Ixia deusta is given as a synonym and the description is consistent with this plant. It was introduced by Masson in 1774. [ABR pl.134/c.1800].
History at Camden Park
Listed in all published catalogues [B.429/1843].
Notes
Published Nov 18, 2009 - 11:33 AM | Last updated Jul 25, 2010 - 03:10 PM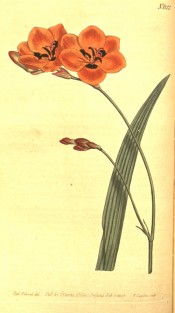 Family
Iridaceae
Category
Region of origin

South Africa, Cape district

Synonyms

Ixia deusta [Soland.]
Waitzia deusta (Ait.) Kreysig

Common Name
Name in the Camden Park Record

Tritonia deusta

Confidence level
high