Tritonia crocata Ker-Gawl.
Half-hardy cormous perennial with erect linear leaves and spikes of up to 10 cup-shaped orange to pinkish-red flowers in spring. To 50cm. [RHSE, CECB, Hortus].
Horticultural & Botanical History
'To the Cape of Good Hope, that never-failing source of rare and beautiful plants, we are indebted for most of our Ixias, and among others for the present species [Ixia crocata], which though not of that value, nor possessing the delicacy of fragrance of the blossoms of some others, is a very desirable plant, not only as an object of curiosity, from the transparency of the base of the corolla, but as it adds much to the brilliancy of a collection, is easily obtained, and is easily propagated.
It flowers in May and June, but its flowering may be prolonged by putting its bulbs into pots at different periods, or accelerated by artificial heat. It produces offsets more plentifully than many of the genus. Mr. Aiton informs us that it was cultivated by Mr. Miller in 1758, who figures it in his Icones.' [BM t.184/1792]. BM t.704/1803 as Tritonia fenestrata, 'Open-flowered tritonia'.
History at Camden Park
Listed in all published catalogues [B.428/1843]. Ixia crocata was recorded as received per 'Sovereign' February 1831. [MP A2948]. Seeds or bulbs of Tritonia crocata were presented to the Sydney Botanic Gardens by Messrs. Macarthur in the same year. [RBGS AB1].
Notes
Published Nov 18, 2009 - 11:12 AM | Last updated Jul 25, 2010 - 03:10 PM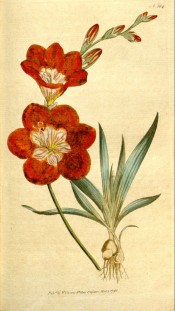 Family
Iridaceae
Category
Region of origin

South Africa, Cape district

Synonyms

Tritonia fenestrata Ker-Gawl.
Tritonia hyalina Bak.
Ixia crocata D.Delaroche

Common Name

Blazing star, Rooikalkoetjie

Name in the Camden Park Record

Ixia crocata

Tritonia crocata

Confidence level
high