Tillandsia setacea Sw.
Epiphytic perennial with erect, rigid leaves, to 30cm long, and flowers in dense spikes with red, yellow-edged bracts, each bearing a tubular white flower. [RHSD, Hortus].
Horticultural & Botanical History
Introduced to Britain in 1824. [JD]. 'Among a valuable collection of Jamaica plants received the Glasgow Botanic Garden from Mr. Smith, was the present truly fine species of Tillandsia, which blossomed in the stove in the month of May, 1833. The leaves are of a pale or whitish hue; but the scales or bracteas of the spike are richly variegated with red and yellow, and each bears in succession, a single and delicate flower, which continues but for one day.' [BM t.3275/1833].
History at Camden Park
Buonaparte juncea was included in a consignment of plants sent from Kew by John Bidwill in November 1843 [AJCP]. Although it is very likely that these plants were sent to Camden to the care of William Macarthur there is no other evidence of its being grown there.
Notes
Bonapartea juncea Haw. (1812) = Agave boscii (Hornem.) ined. which see. This is perhaps a more likely identification for the plant imported by Bidwill under the name Buonaparte juncea.
Published Apr 01, 2010 - 10:58 AM | Last updated Nov 07, 2011 - 05:35 PM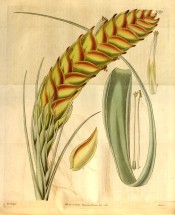 Family
Bromeliaceae
Category
Region of origin

Carribean and South America

Synonyms

Bonapartea juncea Ruiz & Pav.
Tillandsia juncea Poir.

Common Name
Name in the Camden Park Record

Buonapartea juncea

Confidence level
low