Sparaxis tricolor (Schneev.) Ker-Gawl.
Cormous perennial with basal fans of erect lance-shaped leaves and 1-5 stems of up to 6, flattish, widely funnel-shaped, usually orange, red or purple flowers, with a purple-black or dark red central mark, in spring and summer. A white form is also grown, with a yellow throat, edged with crimson-purple. To 40cm. [RHSE, CECB, Hortus].
Horticultural & Botanical History
'We do not remember ever to have been so forcibly struck with the beautiful appearance of a flower, as with that of the present Ixia, nor do we recollect any one that can boast colours at once so various, so brilliant, and so pleasing; placed by the side of the Amaryllis formosissima, sarniensis, vittata, the Cistus formosus, Pelargonium tricolor, or a hundred other plants of the more beautiful sorts, the eye would be fixed by this alone. […] Though new to this country, this plant has been known some years to the Dutch, we find it in their catalogues under the name of Ixia stellata tricolor; no doubt they received it from the Cape. This species is propagated with the same ease that most of the Ixias are, and requires the same management, - to be planted in a pot of bog-earth and secured from frost. It has ripened seeds with me at Brompton; one capsule contained ten.' [BM t.381/1797]. BM t.1482/1812.
'Introduced in 1789. Its flowers are most splendid in their vividly contrasted colours, and it is a great ornament of the greenhouse when in perfection; or it may be kept very well in a border close to the front of the stove.' [LBC no.1903/1833]. FC p.73/1833.
History at Camden Park
Listed in all published catalogues [B.415/1843]. Naturalised in a range of colours on the grassy slope known as Blarney Bank in the Camden Park garden.
Notes
Published Nov 18, 2009 - 10:25 AM | Last updated Jul 24, 2010 - 05:12 PM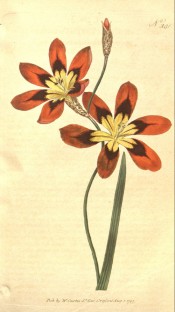 | | |
| --- | --- |
| Family | Iridaceae |
| Category | |
| Region of origin | South Africa, Cape district |
| Synonyms | |
| Common Name | Velvet flower |
| Name in the Camden Park Record | Sparaxis tricolor |
| Confidence level | high |