Smithiantha zebrina (Paxton) Kuntze var. geroltiana (Kunth & Bouche) Voss
'The flowers are green and yellow, beautifully freckled. Very interesting and blooms freely.' [FC p.235/1846]. 'Highly valuable plant for autumn and winter decoration. Long (2 feet) pyramidal-formed spikes, with numerous laterals of scarlet and yellow flowers. Similar to Gesnera zebrina.' [FC p.6/1849].
Horticultural & Botanical History
In 1851 the Floricultural Cabinet described a plant seen at Kew Gardens: 'Large plants, in fine bloom, the flowers of a bright scarlet and rich yellow colours, beautifully spotted inside. The tube is wide, and the front limb fully expanded, which shows the flower fully. These will bloom the entire winter and are very handsome.' [FC p.8/1851]. FS pl.IV 4e Liv./1846. MB pl.??/1847.
History at Camden Park
Only listed in the 1857 catalogue [B.114/1857]. Obtained from Kew Gardens, brought out from England by Captain P. P. King in 1849. In the confirmatory list sent by Macarthur to King it is marked with an 'o', meaning new to the colony. [ML A1980-3].
Notes
See also Smithiantha zebrina Kuntze.
Published Aug 30, 2009 - 04:43 PM | Last updated Jul 21, 2010 - 05:20 PM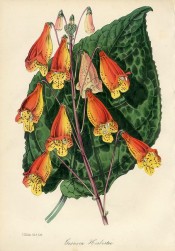 Family
Gesneriaceae
Category
Region of origin

South America

Synonyms

Smithiantha geroltiana Kunthe
Gesneria geroltiana Kunth & Bouché
Gesneria gerardiana Hort. ex Lem.
Gesneria herbertiana Lem.
Naegelia zebrina (Paxton) Regel var. geroltiana Regel

Common Name
Name in the Camden Park Record

Gesnera Herbertiana

Confidence level
high