Smithiantha zebrina Kuntze
Frost tender rhizomatous perennial with heart-shaped leaves, marked dark green or purple-brown along the veins, and scarlet and yellow flowers with red-spotted throats, in summer. To 75cm by 35cm. [RHSD, Hortus].
Horticultural & Botanical History
According to Paxton's Magazine of Botany introduced to Britain in 1840, by M. Doncklaer of the Botanic Gardens of Ghent. [REF]. 'Whether in leaf or flower this is a plant of striking beauty. Its leaves are soft with down, broad and beautifully stained with purple in the direction of the principal ribs, so as to have the banded appearance which has given rise to the name. The flowers, scarcely less than an inch and a half long, hang gracefully at the end of long slender stalks, and are of the richest scarlet and yellow, variegated with crimson spots.' [BR f.16/1842]. The Gardeners' Chronicle was scarcely less enthusiastic in 1849: 'A more useful plant than this for decorating the stove and conservatory during the autumn and winter months can hardly exist.' [Gard. Chron. 1849]. In 1852 this journal commented: 'The rich, green, velvety-like, and elegantly marked foliage of this lovely Gesnera renders it a pleasing and attractive object during all stages of its growth; and its fine spikes of deep red and orange blossoms are fully worthy of the fine foliage from which they issue.' [Gard. Chron 1852]. BM t.3940/1842. OFG f.73/1853.
History at Camden Park
Listed only in the 1857 catalogue [B.117/1857].
Notes
See also Smithiantha zebrina (Paxton) Kuntze var. geroltiana (Kunth & Bouche) Voss.
Published Aug 31, 2009 - 04:55 PM | Last updated Jul 21, 2010 - 05:20 PM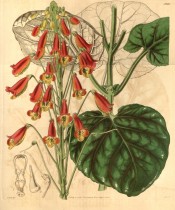 Family
Gesneriaceae
Category
Region of origin

Mexico

Synonyms

Gesneria zebrina Pax.
Naegelia zebrina Regel

Common Name
Name in the Camden Park Record

Gesnera zebrina

Confidence level
high