Sinningia tubiflora Fritsch
Frost-tender tuberous perennial with leaves covered with fine white hairs, and fragrant, white, Nicotiana-like flowers borne on a one-sided raceme on erect stems, 60cm or more long. [Moore].
Horticultural & Botanical History
Fish describes it as 'a striking plant with long, tubular, pendulous flowers of great grace and beauty, so distinct from other gloxinias that they are separated in modern botanical arrangements.' Introduced to Britain in 1843. [PD]. 'This very fine and new plant seems to have nearly as strong a claim to be considered a Gesneria as a Gloxinia, or, rather, it appears almost to unite the two Genera. It is one of the many interesting novelties, reared by Mr. Moore of the Glasnevin Botanic Garden from seeds, sent by Mr. Tweedie from Buenos-Ayres. I do not think, however, the species inhabits any portion of the Argentine provinces, at least I have never found it in any of the numerous collections I have received from Mr. Tweedie. It is probable he obtained the seeds from South Brazil, or, it has been suspected, from Paraguay.' [BM t.3971/1842].
History at Camden Park
Listed in the 1850 and 1857 catalogues [B.197/1850]. Obtained from Kew Gardens, brought out from England by Captain P. P. King in 1849. In the confirmatory list sent by Macarthur to King it is marked with a 'o', meaning new to the colony. [ML A1980-3]. It was also requested of James Backhouse on 1st February, 1849 but is not recorded as received. [MP A2933-1, p.183].
Gloxinia tubiflora rosea was also requested of James Backhouse on 1st February, 1849. [MP A2933-1, p.183]. The identity of this plant is not known.
Notes
See also Dolichoderia tubiflora Hanst.
Published Sep 07, 2009 - 02:56 PM | Last updated Jul 21, 2010 - 04:56 PM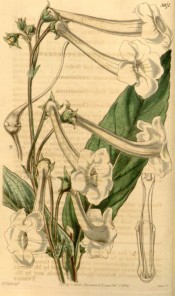 Family
Gesneriaceae
Category
Region of origin

Brazil

Synonyms

Gloxinia tubiflora Hook.
Achimenes tubiflora Britton

Common Name
Name in the Camden Park Record

Gloxinia tubiflora

Confidence level
high