Sinningia speciosa 'Caulescens'
A cultivar of Sinningia speciosa (Lodd.) Hiern. A dwarf plant with small, bright purple, slipper-shaped flowers. [RHSD, Fish]. This description is somewhat at odds with the description given in Loddiges' Botanical Cabinet: 'This grows with an erect stem nearly two feet in height'. At Camden Park there is a variety grown from Brazilian seed and simply labelled 'Large Purple' that is very similar to Loddiges' description and to the figure in the Botanical Register used here.
Horticultural & Botanical History
'A native of Pernambuco, whence it was imported by Mr. Miller, of the Bristol Nursery, in whose very extensive establishment it flowered in August last. It is by far the finest of this handsome genus that has yet appeared, and exceedingly worthy of cultivation. It requires, like the other Gloxinias, the heat of the stove; and, we presume, is to be propagated in the same way as they are. Our figure was made on the spot by Miss Mintron, - a lady whose skill in the elegant accomplishment of drawing is rarely equalled even by professional artists.' [BR f.1127/1828]. 'This grows with an erect stem nearly two feet in height, and flowers in great profusion during the summer. We received our plant from Mr. M'Nab, of Edinburgh, and suppose it is originally from South America, like the speciosa, to which it is nearly allied.' [LBC no.1566/1831]. Fish describes it as the first species with upright flowers to be introduced to Europe, in 1826, but the figure in the Botanical Record shows a typical slipper flower.
History at Camden Park
Listed in the 1850 and 1857 catalogues [B.183/1850].
Notes
Published Sep 04, 2009 - 05:09 PM | Last updated Aug 21, 2011 - 05:02 PM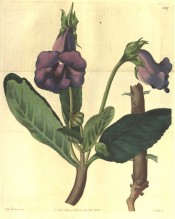 | | |
| --- | --- |
| Family | Gesneriaceae |
| Category | |
| Region of origin | Brazil |
| Synonyms | Gloxinia caulescens Lindl. |
| Common Name | Gloxinia, Slipper gloxinia |
| Name in the Camden Park Record | Gloxinia caulescens |
| Confidence level | high |