Sinningia bulbosa (Ker-Gawl.) Wiehler
Frost-tender, tuberous-rooted perennial with downy stems, leaves and flowers, opposite, heart-shaped, toothed leaves, and upright stems bearing terminal panicles of large, wide-mouthed, velvety scarlet flowers, with a white lower lip splotched with dark purple. [RHSD].
Horticultural & Botanical History
Introduced to Britain in 1833. [PD]. 'We do not trace this fine plant [Gesneria bulbosa] in any recorded species. It differs from all we are acquainted with, by the round bulblike rootstock and by the great inequality of the limb of the corolla. Not having had an opportunity of inspecting the inflorescence, after the drawing was made, we have described that part of the plant from the figure. Recently introduced by Mr. Lee, of the Hammersmith Nursery. It was sent him from the Brazils, where it is native, by Mr. Chamberlain, the English Consul at Rio Janeiro; and flowered for the first time with us in September. It requires to be kept in the bark-bed of the hot-house; where it proves a most valuable ornament by the beauty, abundance, and long succession of the bloom. [BR f.343/1818]. 'Professor Lindley, who figured and described this species from a plant that flowered in the collection of the Hon. and Rev. William Herbert of Spofforth, rightly judged that it was a native of Brazil: Mr. Gardner having since sent roots of it from the neighbourhood of Rio Janeiro to his subscribers : and from one of these, the plant here figured was raised at the Glasgow Botanic Garden in 1837. It produced its truly splendid blossoms in July of the same year; and the species may certainly be reckoned among the most beautiful of this handsome Genus'. [BM t.3659/1838].
History at Camden Park
Listed only in the 1857 catalogue [B.113/1857].
Notes
Published Aug 30, 2009 - 04:33 PM | Last updated Jul 21, 2010 - 04:47 PM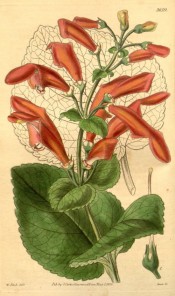 Family
Gesneriaceae
Category
Region of origin

Brazil

Synonyms

Rechsteineria faucialis (Ker-Gawl.) Kuntze
Gesneria fascialis Hook.
Gesnera faucialis Lindl.
Gesneria bulbosa Ker-Gawl.
Dircaea bulbosa (Ker-Gawl.) Decne.

Common Name
Name in the Camden Park Record

Gesnera faucialis

Confidence level
high