Silene laciniata Cav.
A tender, pubescent perennial herbaceous plant with with large, lance-shaped leaves and deep scarlet, star-like flowers. [RHSD, Hortus, Gard. Chron 1843].
Horticultural & Botanical History
'A native of Mexico, whence it was originally introduced in 1823, when seeds of it were presented to the Horticultural Society by the late Right Hon. George Canning. It was soon, however, lost, and has been for the second time procured by Mr. Graham, to whom we are so much indebted for the introduction of some of the finest plants of the rich mountain Flora of Mexico. Our drawing was made in the Garden of the Horticultural Society in July 1830. It is difficult to say what is the proper mode of treating this plant. It is not hardy enough to live in cold English summers without protection; and it does not thrive either in a greenhouse or a frame. It is, however, when well grown, a very handsome plant, and richly deserving of careful cultivation. Mr. Bentham has remarked to us, that this is no doubt Lychnis pulchra of Schlechtendahl and Chamisso, found by Deppe and Schiede at the foot of the mountain Orizaba, where it is, however, a rare plant.' [BR f.1444/1831]. MB no.219/1843.
History at Camden Park
Seed of this plant was ordered from Warner & Warner, Seedsmen and Florists, Cornhill, on 12th April 1846. [MP A2933-1, p. 131].
Notes
Published Sep 21, 2009 - 11:35 AM | Last updated Jul 16, 2010 - 02:37 PM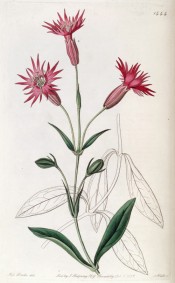 Family
Caryophyllaceae
Category
Region of origin

Mexico to south western USA

Synonyms

Melandrium laciniatum (Cav.) Rohrb.
Silene speciosa Pax.

Common Name

Showy catchfly, Mexican campion

Name in the Camden Park Record

Silene speciosa

Confidence level
high