Potentilla x hopwoodiana Sw.
Potentilla nepalensis Hook. x Potentilla recta L. hybrid. A fully hardy hybrid with palmate leaves consisting of 5 leaflets and yellow flowers edged with rose, in terminal panicles, in summer. To 45cm. [RHSD, Hortus].
Horticultural & Botanical History
'Petals beautifully variegated, marked with a spot of deep rose colour at the base, and from it to the centre of a pale straw colour, edged with bright rose.' An English hybrid introduced in 1829. [Don]. 'Viewed at a proper period, and in a position favourable to the abstraction of the mind from every consideration of its comparatively little pecuniary value, we pronounce it one of the most splendid border flowers which have yet been brought to deck our gardens.' [MB p.149/1839]. 'This plant is said to have been raised between P. nepalensis and P. recta. Considering how little dependence is be placed upon the names of species in many Gardens, we by no means vouch for the latter parentage; the former is, we believe, undoubted. It appeared to us, from specimens communicated by the Comte de Vandes, to be a very pretty plant; on which account we have given it a place in this work. […] It has long been apparent to us, that numerous varieties which the industry and skill of modern Gardeners have been, it may almost be said, creating by the intermixture of the pollen of nearly allied species, while they have, in many cases, added greatly to the beauty of the Flower-Garden, have been gradually tending, in a most inconvenient degree, to embarrass the systematic Botanist.' John Lindley considered the practice of admitting hybrids as legitimate species to be wrong, and from this point the Botanical Register proposed 'henceforth to designate them, like this one, by the particular title of Garden Variety, in order that the compilers of Species Plantarum may no longer be led into incorporating such ephemeral productions with their lists of the genuine productions of nature.' [BR f.1387/1830]. FC p.224/1849.
History at Camden Park
Listed in the 1850 and 1857 catalogues [H.190/1850].
Notes
Published Oct 06, 2009 - 04:43 PM | Last updated Feb 04, 2010 - 12:36 PM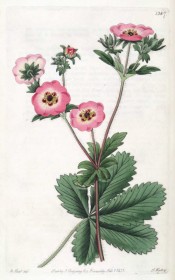 | | |
| --- | --- |
| Family | Rosaceae |
| Category | |
| Region of origin | Garden origin, Britain |
| Synonyms | |
| Common Name | Cinqufoil |
| Name in the Camden Park Record | Potentilla Hopwoodiana |
| Confidence level | high |