Polianthes tuberosa L. var. flore pleno
For details see Polianthes tuberosa L. The double form has long been a popular plant and a dwarf, semi-double form, "The Pearl", is the most commonly planted form today. [RHSE, Hortus].
Horticultural & Botanical History
Polianthes tuberosa f. plena Moldenke [Phytologia vol.3, p.41/1948] is an accepted botanical name.
Paxton's Dictionary lists the variety flore-pleno and it was presumably an early introduction to British garden. It was also well known in North America. 'The variety mainly grown is the double one, Polianthes tuberosa plena, but the single variety is very useful for its earliness, blooming in the open ground two weeks sooner than the double variety. A new variety, known as "Pearl," of very dwarf habit and of flowers nearly double the size of this older sort, will doubtless soon be exclusively grown.' [Practical Floriculture p.149/1873]. A line drawing of a double tuberose appears in Allen and is used as illustration here.
History at Camden Park
Listed in all published catalogues [B.402/1843]. Received per 'Sovereign' February 1831 under the name double Tube rose. [MP A2948].
Notes
Published Jan 18, 2009 - 11:42 AM | Last updated Feb 06, 2012 - 05:22 PM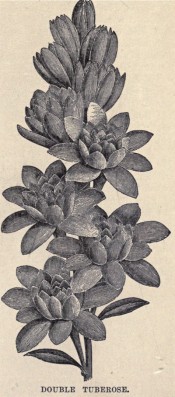 | | |
| --- | --- |
| Family | Agavaceae |
| Category | |
| Region of origin | |
| Synonyms | |
| Common Name | Double tuberose |
| Name in the Camden Park Record | Polyanthes tuberosa fl. pl. |
| Confidence level | high |