Platycerium bifurcatum (Cav.) C.Chr.
Large epiphytic fern with sterile 'nest leaves' forming a large mass at the top of the plant, the branched fertile fronds either erect or pendant. Plantlets grown from buds and enable the clump to encircle the tree trunk. [RHSD, Hortus, FNSW].
Horticultural & Botanical History
Introduced to Britain as Acrostichum alcicorne in 1808 [JD], but this may be the more tropical species mistaken for Platycerium bifurcatum at this time.
History at Camden Park
Macarthur wrote to Loddiges' nursery on 1st February, 1849: 'I brought up a quantity of Arborescent Ferns and Coryphas from Illawarra more than six months since but none of them are strong enough to bear the voyage yet. The supply I send now of the latter will probably be sufficient until the others are fit. I will fit in a collection of Ferns from Illawarra but it would greatly assist me if you could send me a list of known sps. which you wish to get and a second list of those you have in abundance. Some of the finest such as Asplenium nidus [Bird's Nest fern], Acrostichum alcicorne [Elk's Horn] etc are natives of other parts of the world as well and you have them I do not doubt.' [MP A2933-1, p.185].
Notes
Both Platycerium bifurcatum and Platycerium superbum were confused at this time, often under the name Acrostichum grande. For this reason it is difficult to be certain which plant Macarthur is referring to in some of his letters. However, there is little doubt that Macarthur obtained and grew both species. See also Platycerium superbum de Jonch. & Hennipman.
Published Feb 11, 2009 - 01:37 PM | Last updated Jul 29, 2010 - 05:27 PM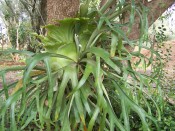 | | |
| --- | --- |
| Family | Polypodiaceae |
| Category | |
| Region of origin | Eastern Australia, growing in more southerly areas than the Staghorn |
| Synonyms | Acrostichum alcicorne auctt. |
| Common Name | Elkhorn fern |
| Name in the Camden Park Record | Acrostichum alcicorne |
| Confidence level | high |