Pitcairnia altensteinii (Link, Klotzsch & Otto) Lem.
Frost tender herbaceous perennial with unarmed, lance-shaped leaves, to 60cm long and 2cm wide, and racemes of white flowers surrounded by bright red bracts on stems to 45cm long, in spring. [RHSD].
Horticultural & Botanical History
'A most beautiful plant, with the habit of Tillandsia, long green unarmed leaves, and oval heads of rich scarlet bracts, from among which protrude long snow-white flowers. It was found by Moritz in the year 1836, in his journey through Columbia and to the Cordillerae.' [BR misc.210/1840]. Figured in Curtis's Botanical Magazine as Pitcairnia undulatifolia. 'A native, probably, of Brazil, but of the history of which we know nothing, save that it was sent to the Royal Gardens of Kew from Liverpool, by our obliging friend Mr. Shepherd, under the name here adopted. It is a very showy plant, and no stove collection should be without it. The leaves are handsome, and of a light green, the lower bracteas are furfuraceous below, red tipped with green, and the long, protruded corollas are quite white. It flowers in May and easily bears parting at the root.' [BM t.4241/1846]. The variety gigantea, with much larger, very showy flower spikes, is also figured [BM t.4309/1847] and in Flore des Serres [FS pl.I & II 8e Liv./1847].
History at Camden Park
Listed in the 1850 and 1857 catalogues [T.788/1850]. Obtained from Kew Gardens, brought out from England by Captain P. P. King in 1849. Believed by Macarthur to be new to the colony. [ML A1980-3]. More plants were obtained from the Sydney Botanic Garden on 17th October 1853. [RBGS AB].
Notes
Published Feb 20, 2009 - 02:21 PM | Last updated Feb 13, 2010 - 04:29 PM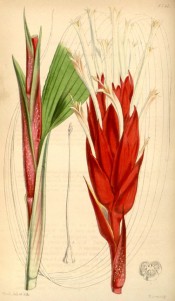 Family
Bromeliaceae
Category
Region of origin

South America

Synonyms

Puya altensteinii Link, Klotzsch & Otto
Pitcairnia undulatifolia Hook.

Common Name
Name in the Camden Park Record

Puya Altensteinii

Confidence level
high