Pinus montezumae Lamb.
Frost-hardy, evergreen, broadly conical tree, becoming domed when old, with rough and fissured bark, green, pendant leaves, to 30cm long, produced in fives, sixes or sevens, and ovoid, yellowish female cones, to 20cm long. To 30m. [RHSE, Hortus, Hilliers'].
Horticultural & Botanical History
A somewhat variable tree as attested by the large number of synonyms and the following description. 'In the mountains, Durango and Zacatecas to Chiapas. Guatemala. Tree, 15 to 20 or even 30 meters high; leaves 10 to 45 cm. long; cones sub-cylindric, 6 to 25 cm. long, deciduous, brown or nearly black, dull. Reko states that the following names are applied in Oaxaca: "Ocote blanco," "pino de Montezuma," "yutnusatnu" (Mixtec). The following names are said to be applied in various regions: "Ocote," "ocotl," "pino real," "pino blanco, "ocote hembro," "ocote macho." [Contributions from the US National Herbarium – Trees and Shrubs of Mexico vol. 23 part 1, p.56/1920]. 'Seeds of this magnificent new Pine [Pinus filifolia] have lately been received by the Horticultural Society from Mr. Hartweg, who collected them on the Volcan del Fuego in Guatemala. The leaves are longer than in any species previously discovered; and the branches are as stout, or stouter, than those of Pinus palustris. It is in distribution by the Horticultural Society; but it is to be feared that it will not prove hardy.' [BR misc.132/1840]. Leaves, female cones and seeds are figured in Die Coniferen. [Die Coniferen t.XVI/1840-41].
Introduced to Britain in 1839. [JD].
History at Camden Park
Listed as Pinus montezumae in the 1850 and 1857 catalogues [C.67/1850]. Macarthur requested Pinus Devoniana and P. Montezumae from Loddiges' Nursery on 6th January 1845 [MP A2933-2, p.28] and this is the likely source. At the same time he requested P. hartwegii and P. russeliana, now recognised as varieties of P. montezumae.
The first record of Pinus filifolia is as part of a consignment of plants sent from Kew by John Bidwill in November 1843 [AJCP]. These plants were probably sent to Camden but mortality rates were high. Abies filifolia was also included among desiderata in a letter to John Lindley dated 15th February 1848 [MP A2933-1, p.157] but was not marked 'arrived' on Macarthur's copies.
Notes
Published Jul 12, 2009 - 04:26 PM | Last updated Jul 29, 2010 - 03:29 PM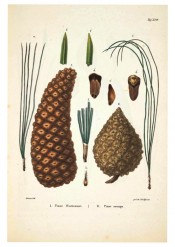 Family
Pinaceae
Category
Region of origin

Central America

Synonyms

Pinus filifolia Lindl.
Pinus macrophylla Lindl.
Pinus gordoniana Hartw.
Pinus grenvilleae Gord.
Pinus lindleyana Gord.
Pinus wincesteriana Gord.
Pinus ruselliana Lindl.
Pinus devoniana Lindl.

Common Name

Montezuma pine

Name in the Camden Park Record

Pinus Montezumae

Pinus filifolia

Confidence level
high