Pinus engelmannii Carrière
Fully-hardy, large tree with rough, dark grey to dark brown, deeply fissured bark, stout shoots, and heavy, ovoid cones, to 18cm. To 35m. [RHSD, Hortus].
Horticultural & Botanical History
Introduced to Britain in 1828. [JD]. 'In the mountains at middle elevations, Chihuahua to Durango and Baja California. Widely distributed in the western United States and Canada; type from Washington. Large tree, sometimes 70 meters high, with a trunk diameter of 2.4 meters, but usually smaller, the trunk tall and naked, the bark pale reddish brown, broken into large plates; leaves 7.5 to 40 cm. long, yellowish green; cones 6 to 19 cm. long, early deciduous, reddish brown, lustrous; wood hard and strong but brittle, close-grained, pale and reddish brown or yellow, very resinous, its specific gravity 0.48 to 0.52. "Pino real" (Durango); "pinabete" (New Mexico). The western yellow pine is an important source of lumber in northern Mexico and the southern Rocky Mountains. The wood is used for railroad ties, fencing, and all kinds of construction purposes.' [Contributions from the US National Herbarium – Trees and Shrubs of Mexico vol. 23 part 1, p.57/1920]. Leaves, female cone and seeds of Pinus ponderosa are figured in Die Coniferen [Die Coniferen t.VIII, figure 1/1840-41].
History at Camden Park
Listed in the 1845, 1850 and 1857 catalogues as Pinus macrophylla [C.65/1845]. What is probably the same tree was received per 'Sovereign' in February 1831 as Pinus Ponderosa. [MP A2948].
Notes
Pinus macrophylla Lindl. (1839) = Pinus montezumae Lamb. var. macrophylla (Lindl.) Parl. See Pinus montezumae Lamb.
Published Jul 21, 2009 - 04:32 PM | Last updated Sep 05, 2011 - 05:24 PM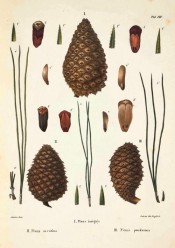 Family
Pinaceae
Category
Region of origin

Southern USA, Mexico

Synonyms

Pinus macrophylla Engelm.
Pinus jeffreyi Murray
Pinus ponderosa Dougl. var. macrophylla Shaw

Common Name

Apache pine, Western yellow pine

Name in the Camden Park Record

Pinus macrophylla

Confidence level
medium