Paeonia officinalis L.
Fully-hardy herbaceous perennial with erect stems, deeply cut leaves and single, cup-shaped, shiny, deep red or rose-pink flowers in summer. To 70cm. [RHSE, Hortus].
Horticultural & Botanical History
'This group [Paeonia officinalis] includes a class of highly picturesque kinds, forming large robust hardy perennials, from two to three feet in height, with simple broad-lobed leaves, and gorgeous flower heads, from six to nine inches in width, and varying from deepest crimson to brightly shaded carmine and pale flesh colour. They are admirably adapted for adorning the foreground of select shrubberies and arboretums, in which positions they are unequalled for massive beauty and grandeur of effect.' [Gard. Chron, 1854]. There are many varieties, Paxton's Dictionary describing ten. 'The Common Paeony of the gardens now rarely occurs with single flowers. In Parkinson's time it must have been much more common, as he observes, that the double sort sometimes produces ripe seeds; which, being sown, bring forth some single and some double flowers. The extremely double varieties which, in our days, have been almost exclusively cultivated, rarely, if ever, produce any seed; and are so easily propagated by the tuberous roots, that little or no attention has been paid to procuring it, till quite late a sort of rage for Paeonies has become prevalent, and seminal varieties are sought after with great avidity.' [BM t.1784/1815]. Introduced to Britain in 1548. [JD].
History at Camden Park
Listed in all published catalogues [B.394/1843]. Camden, with its often hot and dry summers, is not a particularly good environment for paeonies and they were not sold in large numbers by the Camden Park nursery in the 1840s and 1850s. Only a few plants of recent introduction can be seen in the gardens today.
Most of the plants grown by Macarthur are varieties of Paeonia officinalis, P. lactiflora and P. suffruticosa. Six varieties were introduced in 1831 per 'Sovereign', but only two of these, Paeonia Whitleyii and Paeonia fimbriata, subsequently appeared in the catalogues.
Notes
Paeonia officinalis Thunb. (1784) = Paeonia moutan Sims, which see.
Paeonia officinalis Falk (1855) = Paeonia anomala L.
Paeonia officinalis Pall. (1789) = Paeonia corallina Retz. See Paeonia mascula (L.) Mill.
Paeonia officinalis Hayne (1805-46) = Paeonia paradoxa Anders. See Paeonia officinalis ssp. humilis (Retz.) Cullen & Heyw.
Paeonia officinalis Gouan (1794) = Paeonia peregrina Mill., which see.
Published Feb 18, 2009 - 11:34 AM | Last updated Jan 29, 2010 - 01:12 PM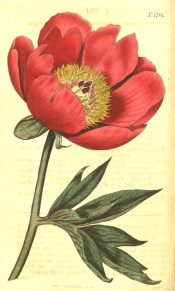 Family
Paeoniaceae
Category
Region of origin

Europe, Asia, North America

Synonyms

Paeonia fulgida Sabine ex Salm-Dyke
Paeonia pubens Sims
Paeonia paradoxa Ten.
Many others

Common Name

Common paeony

Name in the Camden Park Record

Paeonia officinalis

Confidence level
high