Paeonia suffruticosa Andr. var. papaveracea
Papaveracea has nearly single, white flowers with a purple blotch at the base of the petals. Such a plant is figured beautifully in Curtis's Botanical Magazine. The flowers apparently tended to become more double in succeeding generations. [Hortus, BM t.2175/1820, Don]. See Paeonia suffruticosa Andr. for more information.
Horticultural & Botanical History
'Paeonia Moutan var. papaveraceae, is no doubt the normal form of the Tree Paeony, and all the double-flowered varieties of P. Moutan are evidently the offspring of this paternal stock, and since it has sported so freely into beautiful varieties in this country there can be no doubt that the beautiful kinds which Mr. Fortune and other parties tell us are grown at Shanghai have mostly sprung from the same parent stock.' [Gard. Chron 1856].
'It may perhaps be considered as the parent plant of all the double varieties.' [LBC no.547/1821].
'The plant which has been adopted as the type of the species, in consequence of its having single, or rather nearly single flowers, has been always called Papaveracea, not because its petals are like those of the Poppy, but because its germens [...] resemble a capsule of the large Papaver somniferum. The P. moutan papaveracea was imported by Captain James Pendergras, in the Hope East Indiaman, for Sir Abraham Hume, in 1802, and the plant first blossomed in 1806. I do not believe that any other plant of the variety has been brought from China; and if the fact be so, Sir Abraham Hume's was the parent of the whole stock now in Europe. The flowers in some seasons, and especially of late years, have been semi-double; when the plant was younger they were more single, but seldom had as few as five petals' [Clericus in FC p.44/1842]. ABR pl.463/1807.
History at Camden Park
Listed in all published catalogues [T.743/1843].
Notes
Published Jan 29, 2010 - 01:49 PM | Last updated Jan 29, 2010 - 01:55 PM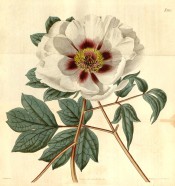 | | |
| --- | --- |
| Family | Paeoniaceae |
| Category | |
| Region of origin | China, probably garden origin |
| Synonyms | |
| Common Name | Tree paeony, Moutan |
| Name in the Camden Park Record | Paeonia Moutan papaveracea |
| Confidence level | high |