Paeonia officinalis L. subsp. villosa (Huth.) Cullen & Heyw.
See Paeonia officinalis L. for a description of the species. Villosa is more pubescent than the type.
Horticultural & Botanical History
'This beautiful variety of P. paradoxa had generally passed in our nurseries for a variety of P. humilis, until its species had been determined by the late Mr. Anderson, and Mr. Sabine, in the Horticultural and Linnaean Transactions, where a masterly account of the whole that were known at that time in our gardens is given, with their synonyms. The present variety is readily distinguished from the double ones of the other species, by its humbler growth, and pubescent leaves; it thrives well in the common garden soil, and is increased by dividing at the root.' [BFG vol.1, t.19/1823-25].
Don describes Paeonia paradoxa fimbriata as having woolly stems and leaf stalks, deeply incised leaflets and double flowers, the petals being linear and divided. Johnson's Dictionary describes it as having double, fringed, purple flowers. Introduced to Britain in 1816. [JD].
History at Camden Park
Listed in the 1850 and 1857 catalogues [B.396/1850]. This variety is marked with a 'c', denoting grown at Camden, in an 1836 Loddiges' catalogue held at Camden Park and was probably grown in the gardens before 1850.
Notes
Published Jan 29, 2010 - 12:06 PM | Last updated Jan 29, 2010 - 12:15 PM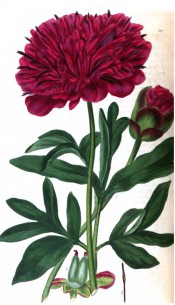 Family
Paeoniaceae
Category
Region of origin

Southern Europe, but probably of garden origin

Synonyms

Paeonia paradoxa Ten. var. fimbriata
Paeonia fimbriata Hort.Angl. ex Sabine

Common Name

Double fringed paeony

Name in the Camden Park Record

Paeonia paradoxa fimbriata

Confidence level
high