Nigella damascena L. var. romana
See Nigella damascena L. for a description of the species. I have no specific description of romana but Jane Loudon, quoted here, suggests that it is merely a synonym of damascena.
Horticultural & Botanical History
'The common Nigella is a native of Italy, and of the south of Europe generally, where it is found wild in cornfields, whence its popular name of Nigella Romana. It is also called N. Damascena, because it is said to have been brought to England from Damascus in 1570. It was probably, however, introduced before that period, as in the edition of Tusser's Five Hundred Pointes of Good Husbandry, published in 1572, which included some directions for gardening, Nigella Romana is enumerated among the flower-seeds directed to be sown in March, as though it were then a common plant, which it could hardly have been if it had been only two years in the country. The generic name of Nigella is supposed to be derived from Niger, in allusion to the blackness of the seeds; but London and Wise, in the Retired Gardener, tell a legend of a wicked nymph, who was changed into this plant, which was afterwards called Nigella, to commemorate the blackness of her heart. In floral language the Nigella signifies doubt and uncertainty, or embarrassment.' [Jane Loudon – The Ladies Flower Garden p.10, pl.2/1838]. There are a number of references to Nigella romana in 18th century Apothecaries but it is unclear how romana differs from damascena. The name has also been confusedly associated with Nigella sativa L., under a variety of common names, including Black Cumin.
History at Camden Park
Listed in the 1845, 1850 and 1857 catalogues [H.158/1845].
Notes
It is possible that Nigella romana of the catalogues is a form of Nigella sativa, grown for medicinal purposes, rather than a form of the ornamental Nigella damascena.
Published Feb 05, 2009 - 04:30 PM | Last updated Mar 05, 2010 - 09:30 AM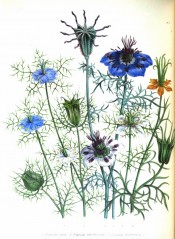 | | |
| --- | --- |
| Family | Ranunculaceae |
| Category | |
| Region of origin | Southern Europe, north Africa |
| Synonyms | |
| Common Name | Love-in-a-mist, Devil-in-a-bush |
| Name in the Camden Park Record | Nigella Romana |
| Confidence level | medium |