Nerine undulata Herb.
Bulbous perennial, the 4-6 strap-like leaves and umbels of 8-12 slender, mid-pink flowers usually appearing together in autumn. To 45cm. [RHSE, Baker Am.]. Almost evergreen in the Camden Park gardens. See also Nerine flexuosa (Jacq.) Herb.
Horticultural & Botanical History
First botanically described as Amaryllis undulata by Linnaeus in 1767 [Syst. Nat. ed.12, vol.2, p.237/1767] and placed in Nerine by Herbert in 1820 [BM t.2124/1820], referring to the plant described in The Botanical Magazine at t.369 in 1797 as Amaryllis undulata. 'In the flowers of this species of Amaryllis, a native of the Cape, and introduced about 1767, by John Blackburne, Esq. there is a considerable degree of beauty, and still more of singularity; and the plant is rendered more desirable, from its producing those flowers towards the close of autumn, so late as October and November, and that too both readily and abundantly.' [BM t.369/1797].
'This pretty autumnal plant has been long in cultivation; it is a native of the Cape of Good Hope, and bears its lively flowers plentifully every year, in October. It needs the shelter of the greenhouse, and increases itself sufficiently by offsets, which should be potted in light sandy loam, and need no particular care. It has long been known as Amaryllis, but from the discovery of so many new forms of that voluminous tribe, the division has become in a great measure indispensable.' [LBC no.1669/1832].
History at Camden Park
Listed only in the 1857 catalogue [B.357/1857]. Well established in the gardens. These bulbs were probably removed from the abandoned Lower Garden in the early 1980s.
Notes
Published May 25, 2009 - 05:11 PM | Last updated Aug 09, 2012 - 03:02 PM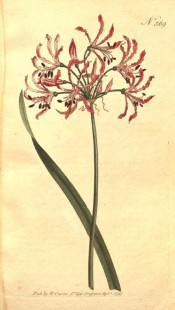 Family
Amaryllidaceae
Category
Region of origin

South Africa

Synonyms

Amaryllis flexuosa Jacq.
Amaryllis major Tratt.
Amaryllis undulata L.
Haemanthus undulatus (L.) Thunb.
Imhofia flexuosa (Jacq.) Kuntze
Imhofia undulata (L.) Kuntze
Loxanthes flexuosa (Jacq.) Salisb.
Loxanthes undulata (L.) Salisb.
Nerine alta W.F.Barker
Nerine aucta (Tratt.) M.Roem.
Nerine flexuosa (Jacq.) Herb.

Common Name
Name in the Camden Park Record

Nerine undulata

Confidence level
high