Nerine sarniensis Herb.
Bulbous perennial with up to 6, erect, strap-like leaves, produced after the flowers, which are compact umbels of 10-20 crimson to orange-red flowers in autumn. To 45cm. There are a number of varieties. [RHSE, Hortus, CECB, Baker Am.]. See also Nerine curvifolia (Jacq.) M.Herb.
Horticultural & Botanical History
First botanically described as Amaryllis sarniensis by Linnaeus in 1753 [Sp. Pl. p.293/1753] and placed in Nerine by Herbert in 1820 [BM t.2124/1820], referring to the plant described in The Botanical Magazine at t.294 in 1795 as Amaryllis sarniensis. 'Each flower when in its prime looks like a fine gold tissue wrought on a rose-coloured ground, but when it begins to fade and decay, it looks more like a silver tissue, or what they call a pink colour: when we look upon the flower in full sun-shine, each leaf appears to be studded with thousands of little diamonds, sparkling and glittering with a most surprising and agreeable lustre; but if we view the same by candle-light these numerous specks and sparkles look more like fine gold dust.' [BM t.294/1795].
It was grown in Paris by 1634 and by 1888 had been grown in the Channel Islands for 200 years, hence its common name of Guernsey Lily. [Baker Am.].
'The plant has never been extensively cultivated in this country, owing doubtless to the fact that, under the ordinary modes of treatment, the bulbs are of no further use after flowering: and hence a supply has to be obtained annually [and] the bulbs have always been comparatively costly.' [Gard. Chron. 1852]. FS f.1096/1856.
History at Camden Park
Listed in all published catalogues [B.356/1843]. Nerine insignis was marked with a 'c', denoting grown at Camden, in an 1836 edition of Loddiges' catalogue held at Camden Park [CPA]. This is the first record of the plant now known as Nerine sarniensis.
Notes
Published May 25, 2009 - 05:01 PM | Last updated Aug 09, 2012 - 02:57 PM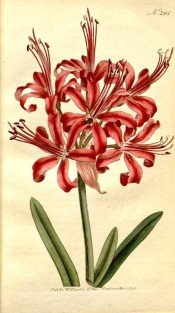 Family
Amaryllidaceae
Category
Region of origin

South Africa

Synonyms

Amaryllis corusca Ker Gawl.
Amaryllis curvifolia Jacq.
Amaryllis dubia Houtt.
Amaryllis fothergilii Poir.
Amaryllis fothergillia Andrews
Amaryllis jacquinii Tratt.
Amaryllis pulchra Salisb.
Amaryllis sarniensis L.
Amaryllis venusta Ker Gawl.
Galatea rosea Herb.
Galatea sarniensis (L.) Herb. ex Steud.
Haemanthus sarniensis (L.) Thunb.
Imhofia corusca (Ker Gawl.) Salisb.
Imhofia curvifolia (Jacq.) Kuntze
Imhofia glauca Salisb.
Imhofia moorei (Leichtlin) Kuntze
Imhofia sarniensis (L.) Salisb.
Imhofia venusta (Ker Gawl.) Salisb.
Lilium sarniense (L.) Curtis
Nerine cochinchinensis M.Roem.
Nerine corusca (Ker Gawl.) Herb.
Nerine curvifolia (Jacq.) Herb.
Nerine fothergillii (Poir.) M.Roem.
Nerine insignis Leichtlin
Nerine jacquinii (Tratt.) M.Roem.
Nerine moorei Leichtlin
Nerine plantii (Baker) auct.
Nerine rosea Herb.
Nerine venusta (Ker Gawl.) Herb.

Common Name

Guernsey lily

Name in the Camden Park Record

Nerine Sarniensis

Confidence level
high