Neomarica northiana (Schneev.) Sprague
Frost-tender rhizomatous perennial with a basal fan of ribbed, sword-shaped leaves, to 60cm, and, in summer, flower stems to 90cm, bearing a succession of flat, scented, white to yellow flowers, mottled crimson or maroon at the base, and barred or streaked violet to blue at the apex. To 1m. [RHSD, Hortus]. The flowers are borne on very slender flattened stems and are accompanied by a plantlet. The weight of flower and plantlet cause the stem to bend and touch the ground with subsequent rooting of the plantlet. This habit has led to the common name of Walking Iris.
Horticultural & Botanical History
'Native of Brazil, whence it was brought to Lisbon, and afterwards to England about 1789. It is a fragrant and beautiful flower, of short duration truly, lasting but a part of a day, but the spathes produce a succession of several flowers from each.' [LBC no.873/1824].
'Flowers in April and May, but its bloom scarcely lasts through the forenoon; very fragrant. […] A native of the Brazils, where it was was gathered on the island of Raza, near the mouth of Rio Janeiro, by Sir Joseph Banks; introduced here via Lisbon, by the late Mrs. North, in honour of whom the gardeners have dubbed it with its present barbarous nick-name.' [BM t.654/1803].
History at Camden Park
Listed in the 1850 and 1857 catalogues [B.322/1850].
Notes
Published Nov 16, 2009 - 03:22 PM | Last updated Jul 24, 2010 - 05:06 PM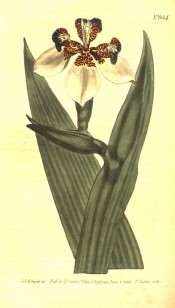 Family
Iridaceae
Category
Region of origin

Tropical America

Synonyms

Marica northiana Ker-Gawl.
Moraea northiana Schneev.

Common Name

Walking iris

Name in the Camden Park Record

Marica Northiana

Confidence level
high