Nemophila menziesii Hook. & Arn.
Fully hardy, fleshy-stemmed, spreading annual with solitary, saucer-shaped, bright blue flowers in summer. Unlike many other species of Nemophila, menziesii lacks dotting or veining in lighter or darker shades. To 20cm. [RHSD, Hortus].
Horticultural & Botanical History
'A truly beautiful and desirable little annual, a native of California, which found its way into our collections through the unparalleled labours of the lamented Douglas over that part of the world.' [MB p.151/1836]. Nemophila insignis grandiflora is 'a very beautiful trailing variety with comparatively light foliage and studded over with thousands of bright azure-blue flowers, three quarters of an inch broad.' [Gard. Chron. 1852]. All Nemophilas are 'pretty plants, and worth cultivating. They may be sown in the open ground. They delight in a moist, shady situation, and peat or vegetable soil.' 'The Nemophilas are all difficult plants to preserve in gardens. N. phacelioides has long disappeared; and we fear this brilliant Californian species, which flowered in August 1833, in the garden of the Horticultural Society, will scarcely be found more manageable.' [BR f.1713/1834]. Nemophila insignis was introduced to Britain in 1822. [Don]. BM t.3485/1836.
History at Camden Park
Listed in all published catalogues [H.155/1843].
Notes
Published Feb 12, 2009 - 09:09 AM | Last updated Jul 22, 2010 - 05:18 PM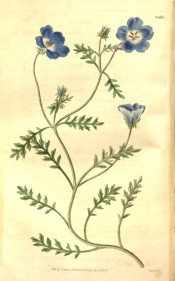 Family
Hydrophyllaceae
Category
Region of origin

California

Synonyms

Nemophila insignis Douglas ex Benth. var. menziesii (Hook. & Arn.) A.DC.
Viticella menziesii J.F.Macbr.

Common Name

Baby blue-eyes

Name in the Camden Park Record

Nemophila insignis

Confidence level
high