Narcissus viridiflorus Schousb.
Bulbous perennial with 1-2 hollow, cylindrical leaves, to 60cm, erect or spreading, produced separately to the flowers and not usually by flowering bulbs, and stems to 40cm, bearing up to 5, dull green, fragrant flowers in early winter. [RHSD, Hortus, Baker Am.].
Horticultural & Botanical History
First botanically described as Narcissus viridiflorus by Peder Schousboe in the Danish publication Iagttagelser over Vextriget i Marokko in 1800 [agttag. Vextrig. Marokko p.157/1800].
Introduced to Britain in 1629. [JD]. 'Parkinson, by whom this rare and singular coloured species was cultivated amongst us nearly two centuries back, has been the first to record it. Subsequently to him, we do not find that it has been noticed, until enrolled under its present title in "The Observations on the Vegetables of Morocco" by Mr. Schousboe, a Danish botanist, who found it growing spontaneously on the coast of Barbary and on the "neutral ground," between Gibralter and St. Roque, in 1791-3.' [BM t.1687/1814].
History at Camden Park
Listed in the 1845, 1850 and 1857 catalogues [B.351/1845].
Notes
Published May 22, 2009 - 05:24 PM | Last updated Aug 08, 2012 - 02:37 PM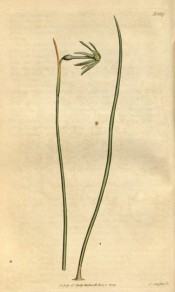 Family
Amaryllidaceae
Category
Region of origin

Morocco and Gibraltar

Synonyms

Chloraster fissus Haw.
Chloraster integer Haw.
Chloraster viridiflorus (Schousb.) M.Roem.
Hermione viridiflora (Schousb.) Haw.
Jonquilla viridiflora (Schousb.) Raf.
Narcissus integer (Haw.) Spach
Prasiteles viridiflorus (Schousb.) Salisb.

Common Name

Green narcissus

Name in the Camden Park Record

Narcissus viridiflorus

Confidence level
high