Moraea aristata (D.Delaroche) Asch. & Grabn.
Cormous perennial with a solitary, linear, flat, basal leaf and occasionally branched stems bearing white flowers with conspicuous, green, blue or violet central eyes on the outer tepals, in spring. To 35cm. [RHSE, Hortus, CECB].
Horticultural & Botanical History
'It is a small delicate Iris, about a foot and a half high, with very narrow leaves, bearing at the top of the stalk one or at most two flowers, three of the petals are large and white, with a brilliant blue spot at the base of each, edged on the outer side with deep purple; the delicacy of the flower, and the eye-like spot at the base of three of the petals, render it one of the most striking plants of the genus.' [BM 168/1791]. 'The remarkable spot at the base of the outer laminae […] probably led Mr. Curtis into the mistake that this was Thunberg's Iris pavonia. […] Found at the Cape, by Thunberg, growing abundantly on the hills below Duyvelsberg, in Swartland, and near Berg-River.' [BM t.696/1803].
'A most delicate and beautiful bulbous plant, from the Cape of Good Hope. It has been known for many years, but has always been scarce. [LBC no.1744/1833]. Vieusseuxia glaucopis was introduced to Britain in 1776. [JD]. OFG f.266/1854. ABR pl.364/1804. FS f.423/1848.
History at Camden Park
Listed in the 1845, 1850 and 1857 catalogues [B.443/1845].
Notes
Published Oct 19, 2009 - 05:25 PM | Last updated Jul 24, 2010 - 05:04 PM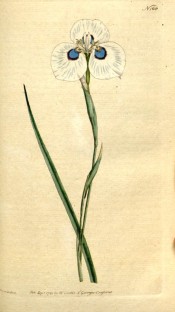 Family
Iridaceae
Category
Region of origin

South Africa, Cape district

Synonyms

Vieusseuxia glaucopis DC.
Vieusseuxia aristata D.Delaroche
Moraea glaucopis Bak.
Moraea tricuspis Ker Gawl.
Iris pavonia Curt.
Iris tricuspis Willd.

Common Name

Peacock iris, Butterfly iris

Name in the Camden Park Record

Vieusseuxia glaucopis

Confidence level
high