Lobelia mucronata Cav.
Half-hardy, upright, herbaceous perennial with oblong to oblongo-lanceolate, toothed leaves and crimson flowers. To 90cm. [JD, BM t.3207/1833].
Horticultural & Botanical History
'Seeds of this very beautiful plant were communicated to the Glasgow Botanic Garden from Chili, the native country of the species, by Alexander Cruikshanks Esq., and blossoms were produced in the greenhouse in August, 1832. Like the Lobelia tupa it will probably be found to be hardy enough in England to bear the open air, and will then prove a great acquisition. It is, however, a much smaller plant than that, in all its parts, bearing a much shorter and more lax raceme of flowers, but which are equally brilliant in point of colour.' [BM t.3207/1833]. Introduced to Britain in 1831. [JD].
History at Camden Park
Desideratum to Loddiges' Nursery on 6th January 1845. [MP A2933-2, p.28].
Notes
Lobelia mucronatum Engelm. (1848) is a Mexican species. I am unsure of its relationship to Lobelia mucronata Cav. but it is unlikely to be Macarthur's plant.
Published Oct 01, 2009 - 11:00 AM | Last updated Jul 16, 2010 - 11:40 AM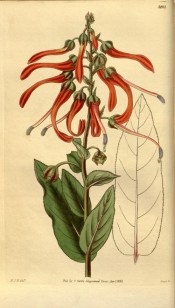 Family
Campanulaceae
Category
Region of origin

South America

Synonyms

Lobelia tupa var. mucronata (Cav.) Reiche
Dortmannia mucronata (Cav.) Kuntze
Rapuntium mucronatum (Cav.) C.Presl.
Tupa mucronata (Cav.) A.DC.
Tupa cavanillesiana (Cav.) G.Don

Common Name
Name in the Camden Park Record

Lobelia mucronata

Confidence level
high