Lobelia ignea Paxt.
Herbaceous perennial with scarlet flowers, growing to 90cm. [BM t.4960/1857].
Horticultural & Botanical History
'This species [Lobelia splendens var. ignea] was first known in Europe through the Berlin Garden, where seeds were sent by the distinguished travellers, Humboldt and Bonpland, from Mexico, and was published by Willdenow in his 'Hortus Berolinensis.' Upwards of forty years ago it was introduced to our English gardens from Paris, and published by Dr. Lindley in the ' Botanical Register,' above quoted. It appears to have been lost to our gardens for a long season, and has, comparatively recently, appeared again under another name, viz. that of L. ignea of Paxton, in his 'Magazine of Botany.' It is, indeed, though a truly distinct species, subject to some variation in the colour and marking of the foliage: green in Willdenow's figure; spotted and blotched, with dark purple, in Lindley's plant; in Paxton's and that now under consideration (and we fear we must add our plant given at Tab. 4002), the leaves are throughout atrosanguineous. Although formerly treated as a greenhouse plant, it has since proved perfectly hardy; is easily increased by dividing its perennial roots, which are somewhat stoloniferous, and it is a truly splendid ornament to our flower-beds.' [BM t.4960/1857].
Johnson's Dictionary lists Lobelia ignea as a true species with flame-coloured flowers. Paxton's Magazine of Botany, in which it is figured, stated that it was introduced to Britain from Chile, via Mr. Makay of Liege, in 1838. [MB p.247/1939].
History at Camden Park
Listed in the 1850 and 1857 catalogues [H.130/1850]. Desideratum to Loddiges, 6th January 1845 [MP A2933-2 p.28]. This is the probable source.
Notes
Lobelia ignea Vell. (1831) = Siphocampylus igneus E.Wimm., a Brazilian species.
Published Sep 29, 2009 - 05:25 PM | Last updated Jul 16, 2010 - 11:41 AM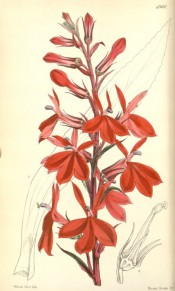 | | |
| --- | --- |
| Family | Campanulaceae |
| Category | |
| Region of origin | North America |
| Synonyms | Lobelia splendens Willd. var. ignea Hook. |
| Common Name | |
| Name in the Camden Park Record | Lobelia ignea |
| Confidence level | high |