Lobelia gracilis Andr.
Erect to shortly trailing glabrous herbaceous plant, leaves to 5.5cm long, the upper ones lance-shaped and pinnatifid, becoming linear, the flowers in one-sided racemes of up to 12 blooms, dark blue or violet, paler at the base. To 30cm. [FNSW, Beadle].
Horticultural & Botanical History
The given origin of the plant figured by Andrews' Botanical Repository appears to be incorrect as the author reports that 'this most delicate plant, of which our figure represents the whole, was raised from Cape seeds, sent by Mr. Niven, for the Clapham gardens' and was first grown by George Hibberts of Clapton in 1801. [ABR pl.340/1803]. Curtis's Botanical Magazine repeats this information uncritically. [BM t.741/1804]. 'The genus Lobelia, though much diminished in number of species by the separation of new genera from it, is nevertheless still very numerous in individuals. Of these Australia has its fair proportion. The present is an addition to those already known, and seems peculiar to North-east Australia. Dr. F. Mueller gives Brisbane River as the locality, on the authority of Mr. Hill and himself. Messrs. Hugh Low and Son, of the Clapton Nursery, possess living plants reared from seeds sent by Mr. Hill from Mount Lindsay, Moreton Bay, and these (from which our figure is taken) show it to be a very ornamental plant, and one well calculated for "bedding out" in open borders, where blue flowers are such a desideratum. The brightness of the colour is here much enhanced by the large white spot on the lower lip and the red tinge on the tube.' [BM t.5088/1858 as Lobelia trigonocaulis in error, mistaking it for Lobelia trigonocaulis F.Meull.].
History at Camden Park
Listed in the 1850 and 1857 catalogues [H.129/1850]. It is possible that Lobelia gracilis and other Lobelias first listed in the 1850 catalogue, were obtained as seed from James Carter, Florist and Seedsman of High Holborn, with whom an order for Lobelia seed, 6 varieties, was placed on 8th of April 1846. [MP A2933-1, p.28]. It is perhaps more likely to have been obtained locally.
Notes
Lobelia gracilis Salisb. (1796) = Laurentia michelii A.DC., a creeping, lobelia-like herb with blue flowers from spain. [RHSD].
Lobelia gracilis Hook.f. is a species from the Galapagos Islands, first described in 1847. [Trans. Linn. Soc. xx. p.206/1847].
Lobelia gracilis Nutt. (1818) = L. nuttallii Roem. and Schult.
Lobelia gracilis Kuntze (1891) = Scaevola gracilis Hook. f. [J. Linn. Soc. i. p.129/1857].
Published Sep 30, 2009 - 04:32 PM | Last updated Jul 16, 2010 - 12:37 PM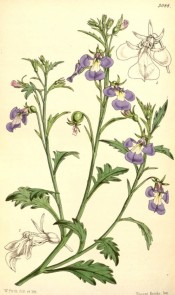 Family
Campanulaceae
Category
Region of origin

Australia

Synonyms

Rapuntium gracile (Andr.) C.Presl.
Dortmanna gracilis (Andr.) Kuntze
Lobelia trigonocaulis Hook.f.
Lobelia andrewsii Lammers

Common Name

Trailing lobelia

Name in the Camden Park Record

Lobelia gracilis

Confidence level
high