Acis autumnalis (L.) Sweet
A slender bulbous perennial with grassy foliage, produced with or just after the flowers, and leafless stems bearing 2-4 bell-shaped white flowers, red-tinged at the base, in summer and early autumn. To 15cm. [RHSE, Hortus, Baker Am.].
Horticultural & Botanical History
First botanically described by Linnaeus in 1753 as Leucojum autumnale [Sp. Pl. p.289/1753]. Placed in Acis by Sweet in 1829 [BFG vol.3, t.297/1829].
This is a simple and beautiful production, blooming in September and October; thus admonishing us from year to year, that "the harvest is past, the summer is ended".' [LBC no.812/1824].
'This modest little plant is a native of Spain, Portugal, and the neighbourhood of Algiers, growing on the dry sandy hills; we have received specimens also from the rock of Gibraltar, gathered by our friend Mr. Weber, Surgeon to a German regiment in his Majesty's service. Brotero has another species or rather variety very similar to Leucojum autumnale, which he calls trichophyllum, in this the petals are acute, not tridentate. Every author who has described this plant agrees that it has usually two, sometimes one, but very rarely three flowers from the same spathe, yet all continue to say spatha multiflora; it appears to be much more constant to the charater of two-flowered than L. vernum does to that of one-flowered. Our drawing was taken from a specimen communicated by Messrs. Napier and Chandler, Vauxhall. It flowers, as the name denotes, in the autumn, coming up without leaves, which with us seldom appear till the flowering is entirely over, sometimes not till the spring.' [BM t.960/1806]. Introduced to Britain in 1629 from Portugal. [PD].
History at Camden Park
Listed in the 1845, 1850 and 1857 catalogues [B.296/1845]. Possibly the plant received per 'Sovereign' February 1831 under the name of 'Snowflake', but this plant is more likely to have been Leucojum aestivum or L. vernum, both of which first appeared in the 1843 catalogue. [MP A2948].
Notes
Leucojum autumnale Balb. = Leucojum hyemale DC.
Leucojum autumnale Gouan = Leucojum aestivum L. which see.
Published May 17, 2009 - 02:23 PM | Last updated Jul 16, 2012 - 04:39 PM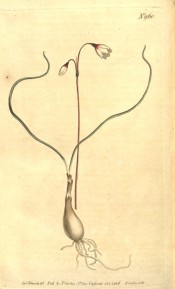 Family
Amaryllidaceae
Category
Region of origin

Southern Europe, north Africa

Synonyms

Leucojum autumnale L.
Acis oporantha Jord. & Fourr.
Acis pulchella Jord. & Fourr.
Ruminia hyemalis Parl.

Common Name

Snowflake, Autumn snowflake

Name in the Camden Park Record

Leucojum autumnale

Confidence level
high