Kohleria bogotensis Fritsch
It was described in the Ornamental Flower Garden as 'a very handsome stove perennial with scaly tubers. The stems grow erect, from 1 to 2 feet high, or sometimes more, bearing opposite leaves, of a broadly ovate form, beautifully variegated with bands of pale whitish blue on a ground of velvet of the deepest bronzy green. The flowers grow on long peduncles from the axils of the leaves, the upper half of the tube and limb rich scarlet, the lower half yellow, marked on the face of the limb with dotted lines of scarlet.' [OFG f.27/1854]. The accompanying figure shows a striking flower, its yellow throat spotted with brilliant crimson.
Horticultural & Botanical History
According to the British Florist it was distributed by the London Horticultural Society in 1844. [BF p.157/1844]. GRA p. 33. FC p.122/1844. MB p.199/1845. FS p.44 vol.1/1845. GC p.213/1853.
History at Camden Park
Listed in the 1850 and 1857 catalogues [B.19/1850]. Achimenes sp. with red spots was obtained from Kew Gardens, brought out from England by Captain P. P. King in 1849. In the confirmatory list sent by Macarthur to King it is marked with an 'o', meaning new to the colony. [ML A1980-3]. However it should be noted that Achimenes picta was requested of James Backhouse on 1st February, 1849. [MP A2933-1 p.183].
Notes
Published Aug 26, 2009 - 05:21 PM | Last updated Jul 21, 2010 - 04:36 PM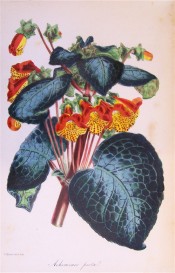 Family
Gesneriaceae
Category
Region of origin

Central America

Synonyms

Achimenes x picta Van Houtte
Achimenes picta Benth.
Kohleria amabalis var. bogotensis (G.Nicholson) L.P.Quist & L.E.Skog

Common Name

Achimenes, Hot water plant, Cupid?s bow

Name in the Camden Park Record

Achimenes sp. with red spots

Confidence level
medium