Koellikeria argyrostigma (Hook.) Regel.
Frost-hardy, rhizomatous perennial with rosettes of softly hairy leaves, a rich, velvety, dark green colour, spotted with silver and often veined deep reddish-green, and slender racemes, to 30cm, bearing many alternate flowers with white corollas, flushed deep pink or red, and yellow-blotched and red-lined throats, in summer. [Moore].
Horticultural & Botanical History
Introduced to cultivation at Kew Gardens, London. Moore considered it one of the most delicate gesneriads in cultivation. Johnson's Dictionary considered it not worth growing. [GRA p.8, FS pl.VII 4e Liv./1846, Gard. Chron. 1845]. 'Among many novelties sent by our Collector for the Royal Botanic Gardens from the Sierra Nivada de Sta. Marta in New Grenada, is the accompanying highly interesting plant. The leaves are peculiarly beautiful, of a rich, velvetty, dark green, with a tinge of purple, spotted with white, as in Begonia arqyrostigma. We will not deny that (partly from the consciousness that the plant was a true Achimenes), very great expectations were raised in respect to the beauty of its flowers. Their first appearance no doubt disappointed us; but as the racemes increased in length and more blossoms expanded, the plant became a general favourite and is likely to continue so, for the flowers bid fair to continue the whole summer months. They are white or cream-colour, spotted with red.' [BM t.4175/1845].
History at Camden Park
Listed in the 1850 and 1857 catalogues [B.1/1850]. Obtained from Kew Gardens, brought out from England by Captain P. P. King in 1849. In the confirmatory list sent by Macarthur to King it is marked with an 'o', meaning new to the colony. [ML A1980-3].
Notes
Published Feb 01, 2009 - 11:47 AM | Last updated Jul 21, 2010 - 04:34 PM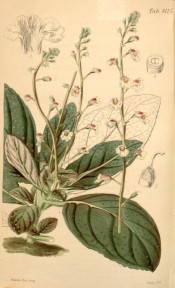 | | |
| --- | --- |
| Family | Gesneriaceae |
| Category | |
| Region of origin | Central and South America |
| Synonyms | Achimenes argyrostigma Hook. |
| Common Name | |
| Name in the Camden Park Record | Achimenes argyrostigma |
| Confidence level | high |