Juniperus bermudiana L.
Half-hardy, densely branched, pyramidal tree with maroon-brown bark, tetragonal branches with rigid branchlets, 4-ranked ovate leaves, and small, violet cones. To 15m. [RHSD, Hortus].
Horticultural & Botanical History
Introduced to Britain in 1683. [JD]. William Hooker provides some information on the history of Juniperus bermudiana. 'I had long been anxious to procure authentic specimens of Juniperus Bermudiana, which is considered to yield the wood of which cedar pencils are made; but notwithstanding that the Bermudas are a colony of Great Britain, and that, besides the interesting use of the wood just mentioned, ships are actually built with it, yet it was only very lately, and then through the kindness of the Rev. C. E. Johns, that I ever had the pleasure of seeing specimens of this important tree. That gentleman has not only oblingingly sent some young living plants to the [Kew] Botanic Garden, direct from the Bermudas, but has supplied my Herbarium with a young plant, and an old branch with berries. But even these, valuable as they are, are scarcely sufficient for me to draw an accurate description, so extremely variable are the leaves upon the old and the young plant, and even in the older portion upon different branchlets of one and the same branch. It seems to be almost wholly, if not quite, unknown to modern botanical authors; nor do I find that any one has attempted to improve on the old Linnean character. […] I regret that I am at present able to give no history of theis valuable tree, beyond the meagre accounts which might be gathered from botanical works; but I trust to make up for this deficiency at some future time. It is generally considered that this Juniper of Bermudas originally afforded the fragrant "Cedar-wood" of which pencils are made; but that this material becoming scarce and dear, recourse was had to the J. Virginiana of the United States, which, now, is the wood generally, if not solely, in use for that purpose. There exists indeed a great affinity between the two plants, and the foliage on some of the smaller branches of the one can scarcely be distinguished from those on the other. Then again, the J. Virginiana, I have, so far as its botanical characters are concerned, referred (in my Flora Bor. Americ.) to the European J. Sabina, in which I am followed by M. Spach. Indeed no genus stands in greater need of a thorough revision than that of the Junipers.' [London Journal of Botany vol.2, p.143/1848].
History at Camden Park
Listed in all published catalogues [C.38/1845].
Notes
Published Aug 02, 2009 - 02:32 PM | Last updated Jul 16, 2010 - 05:05 PM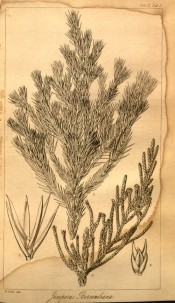 | | |
| --- | --- |
| Family | Cupressaceae |
| Category | |
| Region of origin | Caribbean |
| Synonyms | |
| Common Name | Bermuda juniper |
| Name in the Camden Park Record | Juniperus Bermudiana |
| Confidence level | high |