Ixia retusa Salisb.
Ixia retusa is now regarded as a form of Ixia scillaris L. which see. It is separated here under the name retusa to emphasise the varietal differences. According to Johnson's Dictionary the flowers of retusa are light yellow. [JD].
Horticultural & Botanical History
The plant figured as Ixia polystachya, synonym Ixia retusa in Curtis's Botanical Magazine has pink flowers. 'The above species [Ixia polystachya] is here separated from Ixia scillaris, under which we had left it as a variety in our 542d article [BM t.542/1801]. Besides, in the characters above detailed, this further differs from that in being a taller slenderer plant with much narrower grass-like leaves, having a far shallower lateral excision and never curled or undulate; Rachis less flexuose, fewer flowered, flowers fragrant with their segments regularly and equidistantly disposed; tube proportionably longer; stigmas more cleft and their funnel- or club-form nearly obsolete. Each varies with white and with paler flowers. Both remarkable for a proportionately small regular subglobular bulb with a dark brown covering, for their funnel-shaped hiant stigmas, which should be observed with a glass, both commonly 2-3-4-branched. The flowers of our specimen were unusually large and the stem simple. This flowers in May, scillaris in January or February. Our drawing was taken from an imported bulb at the Nursery of Messrs. Grimwood and Wykes, Kensington.' [BM t.629/1803].
History at Camden Park
Ixia retusa is first recorded in an Addendum to the 1843 catalogue and then only in the 1845 edition.
Notes
For further discussion of Ixias see Ixia hybrid 'Calypso'.
Published Nov 14, 2009 - 12:41 PM | Last updated Jul 24, 2010 - 04:34 PM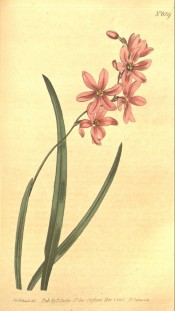 | | |
| --- | --- |
| Family | Iridaceae |
| Category | |
| Region of origin | South Africa, Cape district |
| Synonyms | |
| Common Name | |
| Name in the Camden Park Record | Ixia retusa |
| Confidence level | high |