Isoloma pictum Planch.
Frost-tender rhizomatous perennial with hairy, ovate, toothed, opposite, dark velvety green leaves, to 7.5cm long, red-purple beneath, and hairy and long terminal racemes of velvety scarlet flowers, yellow beneath. [RHSD].
Horticultural & Botanical History
'Two Gesnerias have been brought to my notice lately from Columbia; the one here represented, sent home to the Royal Gardens by Mr. Seemann, the other introduced by Messrs. Veitch and Son, through their collector, Mr. William Lobb. I cannot find that either of them will accord with any described species. I have little hesitation then in considering them new; but although there are some discrepancies, as above indicated, I think the two may, without much violence to nature, be considered the same species. Both are exceedingly beautiful, not only in the rich colour of the copious flowers, but in that of the underside of the leaves, and in the fine velvety texture of the upperside of the foliage. The blossoming continues through t'he summer and autumn, and till late in November. They require the heat of the stove.' [BM t.4431/1839]. Introduced to Britain in 1848. [RHSD].
History at Camden Park
Listed only in the 1857 catalogue [B.116/1857].
Notes
Related by some to Isoloma tubiflorum Decne., synonym Kohleria tubiflora Hanst. which see A less likely possibility is Kohleria bogotensis Fritsch which see.
Published Aug 31, 2009 - 03:48 PM | Last updated Jul 21, 2010 - 04:31 PM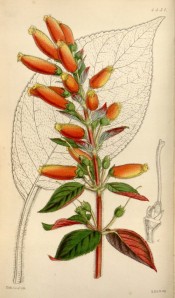 Family
Gesneriaceae
Category
Region of origin

South America

Synonyms

Gesneria picta Hook.
Kohleria picta Hanst.

Common Name
Name in the Camden Park Record

Gesnera picta

Confidence level
high